No matter where I am flying to I almost always have the same things packed in my carry-on. I want to make sure I'm prepared and have all the essentials I need in order to be comfortable.
Nothing is worse than getting on a long haul flight and realizing you don't have your pillow, or even worse, your favorite snack. Here is everything you need to know about what to pack in a carry-on.
This article may contain affiliate / compensated links. For full information, please see our disclaimer here.
Types of Carry-on Bags
For most airlines, you are allowed a carry-on and a personal item. 
The carry-on size limit is usually 9in x 14in x 22in including the handles and wheels. Always make sure you check with your specific airline. There is no weight limit although it's smart to make sure you can easily lift it into the overhead compartment.
Personal Items must be able to fit underneath the seat in front of you. They can be a backpack, shoulder bag, laptop bag or even a purse. Just make sure the bag doesn't exceed 9in x 10in x 17in. Again, always check your specific airline website. Sometimes if you're flying domestic they have stricter rules for carry-on items as well.
The bags I use normally depend on where I'm going and if I'm traveling alone or with Kyle. When we travel internationally we always check a suitcase (or two, because we all know I'm an over-packer) and then we each have a personal item and normally just one carry-on. How much we bring ends up determining which bags we use. Here are our favorites.
Backpack:
Kyle always brings his North Face backpack as his personal item. It's easy to carry around the airport, fits all of the essentials, and it fits underneath the airplane seats. 
The other backpack we use is our photography gear backpack. We got it off of Amazon and it's awesome. We always try to pack our cameras, computers, and photography accessories in our carry-on in case our luggage gets lost and to help prevent any damage.
Tote:
I almost always use this tote as my personal item. It's huge and can fit everything I need including my laptop. It makes it so much easier to access my kindle, snacks, and anything else I may need while on a flight.
Liquids Pouch:
No matter what bag you bring you have to have a separate liquids pouch. It has to be clear and TSA size approved. I always put my liquids pouch in my personal bag for 2 reasons. First, I know that if I need something from there while we are on the plane it is easier to access and I don't have to take anything out of my carry-on. Second, it's much easier and faster going through TSA if you don't have to take things out of every bag.  
Note: Always pack an extra pair of clothes in your personal item or carry-on in case your luggage gets delayed.
What to pack in a Carry-on?
I probably pack too many things in my carry-on. What can I say I want to be prepared? 
Essentials
You can't go anywhere without these items. This is the wallet I use to keep everything together.
Passport/ID
No matter where you are traveling you will need either your Passport or an ID.
Credit Cards/ Cash
I never travel without my Capital One Venture card. It's my favorite travel card. No transaction fees and we earn tons of points. If you are traveling internationally it's also a good idea to have some of the country's currency on hand as well. You can exchange the rest at your destination.
Important Documents
I always print out my flight and accommodation information just in case I don't have cellphone service. Downloading the flight app for your airline is the best way to keep track of everything.
Medicine
Always be prepared with any medications you have to take daily. I always have Tylenol because almost every time we fly I get a headache. I also pack allergy medicine, tums, and Sudafed. (Sudafed helps clear my ears after we land because my ears don't pop on their own and it can be really painful.)
Compression Socks
Compression Socks are a must on long haul flights. You're stuck cramped in your seat for hours. Deep Vein Thrombosis can be a major risk if you're a frequent flyer. Make sure to wear these socks, stand up and stretch when you can, and stay hydrated.
Sleep
Sleeping is the best way to kill time on a long flight. It's almost always uncomfortable though. Here are some things to help make it a little more tolerable.
Pillow
Always bring a travel pillow. Don't use your sweatshirt or ball up a blanket, they will just end up hurting your neck. I've used a couple of different pillows and so far this is my favorite. It looks like a scarf and has a plastic piece that keeps your head and neck straight while you sleep. The only downside of this pillow is that you have to sleep in an upright position. After a few hours, my back always hurts and I need to shift.
Blanket
This is not an essential item since most airlines provide blankets but they aren't the warmest and are normally super thin. There are tons of options on Amazon if you would rather bring your own.
Earplugs
Kyle is the lightest sleeper in the world. He hears everything so sleeping on a plane isn't easy for him. Earplugs are the best for drowning out the snoring and rustling of the other passengers.
Eye mask
This eye mask is great. It blocks out all the light and isn't so tight that it gives me a headache while I'm sleeping.
Eat 
Most flights have either snacks or full meals available for you. Even with that I like to have extra snacks.
Protein bars
Protein bars are the best. They fill you up and they are good for you. My favorite is the perfect bars. 
Jerky
Kyle loves beef jerky. It's an easy snack that's packed with protein.
Almonds
Almonds are a great snack to bring.
Candy
Sometimes I get that craving for a piece of chocolate or Swedish fish while I'm flying. I pack a small snack size so I don't end up eating the entire bag.
Tip: Once you go past security there are tons of places that you can grab food. If you don't want to eat the food provided on the airplane. (I have actually been pleasantly surprised with what we have been served). You can easily get a salad, fruit, or even a sandwich to bring on board.
Hydrate
Staying hydrated on the plane is so important. Always try to drink as much water as you can while traveling.
Water Bottle
The bottle must be empty when you go through security but once you are in the concourse there are plenty of places to fill up. The collapsible ones are the easiest to travel with.
Lotion
The air on the plane dries out more than your throat. Your skin will suffer too. I always bring hand and face lotion to make me feel better throughout my flight.
Lip Balm
My favorite lip balm is here. It also has sunscreen in it so it's great for beyond the flight as well.
Sanitize
Nowadays it is especially important to wash your hands and sanitize often.
Hand Sanitizer
I don't leave my house without hand sanitizer anymore.
Lysol Wipes
I use Lysol wipes to wipe down all the surfaces of my seat and the tray table as soon as I board. 
Refresh
Flights wreak havoc on your body and can make you feel gross. These items will help make you feel refreshed.
Gum/Mints
Gum always helps my ears while landing but I don't like chewing it while we're in the air. Having a mint will help with the stale breath you might have after waking up from a nap.
Toothbrush
Nobody likes bad breath. Before we land or at the airport I like to brush my teeth. In between brushes and after meals I use these Colgate wisps to keep my breath fresh.
Deodorant
Deodorant is a must for long travel days. 
Eye Drops
Red and irritated eyes don't just happen on red-eye flights. The air on the plane can dry out your eyes pretty bad and travel days are tiring. Eye drops can help hydrate and soothe your eyes.
Entertainment
Long flights can get boring fast. Try not to count on the in-flight movies, the last two flights we took the screens for our seats were broken. They tried resetting them for us but had no luck.
Kindle
I love the feel of a physical book but when traveling it's nice to have my kindle. If I finish a book I can just move on to the next one. It's compact and I don't have to worry about messing up the pages in my bag.
Make sure you have downloaded multiple books before you board.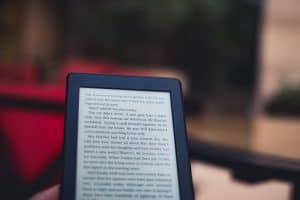 Phone
I can never get the plane's Wi-Fi to work and I definitely don't want to pay for it. Download shows from Netflix or Hulu onto your phone so you can watch without hassle. Make sure you turn off your cellular data to avoid any surprise charges.
Headphones
Most flights give you headphones to use but they are usually uncomfortable. Noise-canceling headphones are my favorite. 
Chargers and Adapters
Don't forget your device chargers. It's no fun when you're bored and your phone or kindle dies a few hours into your flight. We always pack our portable charger while traveling. You may also need an adapter depending on where you're traveling. We use this one.
You can print out our What to Pack in a Carry-on Packing List by clicking the link!
I hope this gave you an idea of what to pack in a carry-on. Have something that you always pack? Let me know in the comments. Happy Packing!