Traveling alone, especially when flying is involved, can be very stressful and scary. Once you do it a few times it gets easier, I promise. With these tips for flying alone for the first time, you will be a confident flyer in no time.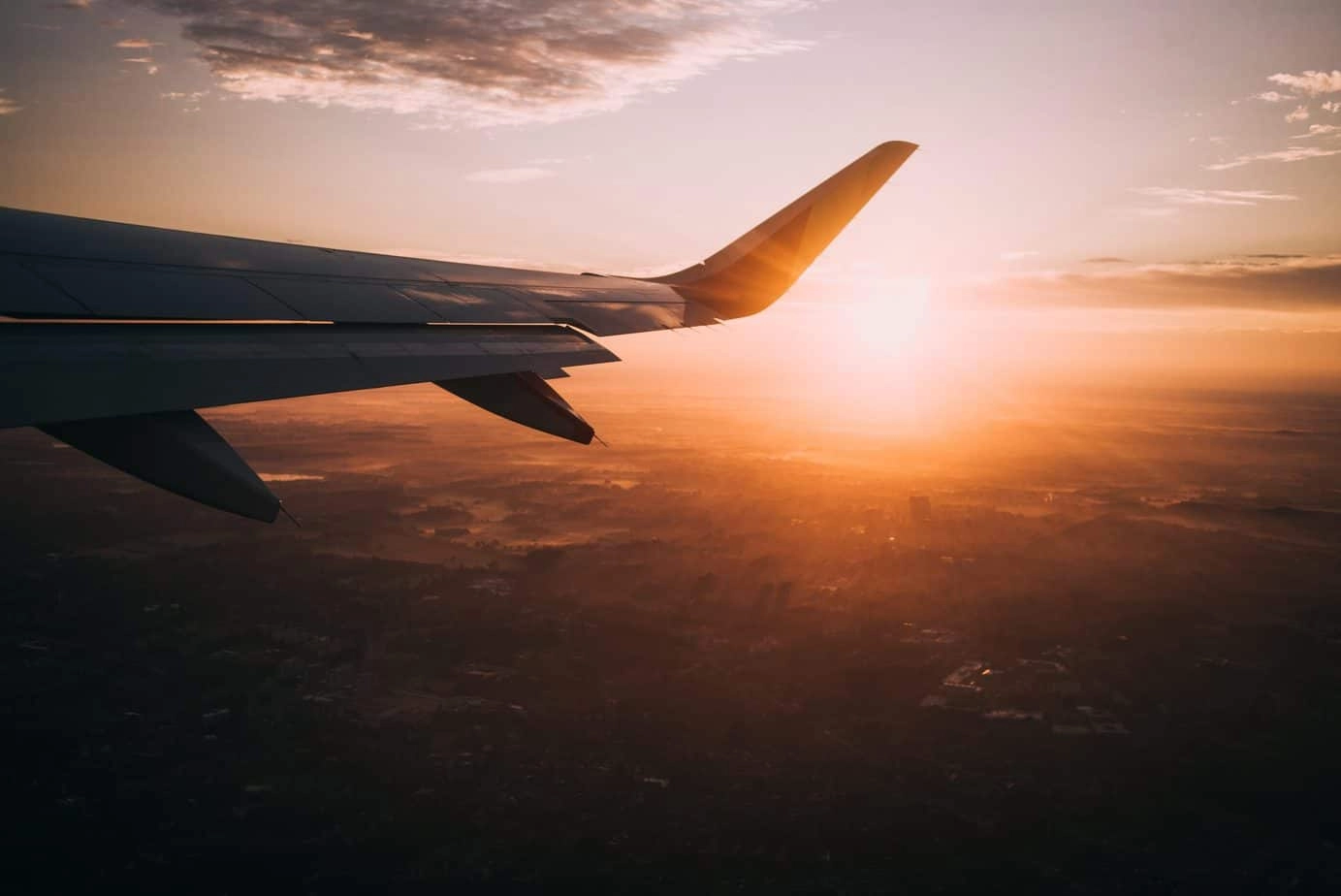 This article may contain affiliate / compensated links. For full information, please see our disclaimer here.
Up until about 2 years ago, I hated flying. I only flew a handful of times as a kid and hated every single flight. Mostly, because I was in pain from my ears not popping, but also because I always felt rushed and confused in the airport.
Note: If you get ear discomfort when flying, check out EarPlanes. I will never fly without them. They are earplugs with a ceramic disc that helps regulate the pressure change to prevent discomfort.
When I took my first solo trip the feelings were the same. I was terrified of flying. Since then, I have flown solo many times and I actually enjoy flying now. I am excited to share all my tips for flying alone with you!
Booking Your First Solo Flight!
Yay! It's time to book your first solo flight. Whether you are going on a solo trip or just taking the flight alone you need to make sure you look for certain things.
Some of these tips will be based on preference. If this isn't your first flight then do what you think is best for you. These are just my suggestions.
Picking the Right Flight
I try my best to get early morning flights if I can, especially when coming home from a destination. I am a morning person so getting to the airport early is easy for me.
This also helps in the event of a delay or cancellation. Instead of being stuck overnight in the airport, you may have an option of getting a flight later in the day.
There is an exception to this for me. If I am flying somewhere and the flight is over 8 hours or so I prefer an overnight flight so that I can sleep. Again, these are just my personal preferences. As you fly more you will figure out what's best for you.
The other thing you need to take into account is if you have any layovers. Make sure your layovers are long enough. If your layover is in another country, you are changing terminals, or airlines you may have to go through a checkpoint or security again on your layover. You need to make sure your layover is long enough to get to your next gate. My suggestion is never to choose a layover of less than an hour but between 2 and 3 hours is preferred. You don't want to risk missing your connecting flight.
Choosing your Seat
You can pick your seat when booking your flight or when you check in. You don't have to choose a seat and you can let the airline choose for you if you don't have a preference.
If this is your very first flight I suggest the window seat. It's your first flight, by getting the window seat you can see out the window and enjoy the view!
I prefer the window seat so I can look out and I can lean against the wall giving myself more room. The downside of the window is that you have to ask your seatmates to move if you need to go to the restroom.
Again, seat choice is a personal preference so try them all out and decide what seat is best for you.
Check your Passport
When flying internationally you need to make sure your passport isn't expired or going to expire within 6 months after the final day of travel.
If flying domestically, you will only need your ID. If you are a US citizen keep in mind that the Real ID law goes into effect in 2025. You can read all about that and which forms of ID are acceptable for air travel here.
Now let's talk about one of the most stressful parts of flying, navigating the airport. Being in an airport used to give me so much anxiety.
But now, I LOVE being in the airport. Getting a drink at 6 am before my flight, because you know, time doesn't exist at the airport. 😉 
Getting around any airport, especially for the first time can be nerve-wracking, even for a seasoned traveler. Here are my tips for navigating the airport.
If you have the option, check-in online. You can do this 24 hours before your flight.
Arrive 2-3 hours early for your flight. This is especially important if this is your first flight. Give yourself extra time to be safe. If you are parking your car at the airport, look up where to park and if you can pay for parking beforehand. 
If you are checking a bag, you need to go to the airline counter to check in and get your bag weighed and tagged. If you aren't checking a bag go straight to the security checkpoint.
Be sure you are at the correct terminal and go through security. Your terminal is listed on your boarding pass whether physical or on the mobile app. Going through security can be overwhelming and honestly is still the worst part of traveling for me. For some reason, I always get anxious going through security, no matter how many times I've done it. There are signs posted all over the checkpoint telling you what to do and the TSA agents tell you as well. They can get aggressive but just keep calm and follow their instructions. You'll be through it in no time.
The next thing you need to do is find your gate. If you don't have the airline app there are boards around the airport that shows you arrivals and departures and should have your gate listed. If you have a lot of time then you can find something to eat or have a drink at the bar. Just make sure you are at your gate at least 30 min before departure. Typically boarding begins between 30-45 min before departure, the boarding time is usually listed on your boarding pass. The cutoff for boarding is 20 min prior to takeoff. They will shut the door on you so make sure you are there in time.
When they start boarding they will call group numbers. This is listed on your boarding pass. Once your group is called get in line and show your boarding pass to the gate agent and board the plane.
Once on board, locate your seat (also listed on your boarding pass) and place your carry-on bag in the overhead bin and personal item under the seat in front of you. Now buckle up and you are ready to take off!
Tips for Flying Alone for the First Time
Download Airline App
Downloading the app for your airline will help tremendously. Make sure you have notifications turned on for it as well so that you receive updates in case your flight changes. 
Using the app allows you to receive real-time updates and easy online check-in which will give you a mobile boarding pass.
Make sure to share your travel plans with friends or family. This will give you and them peace of mind. Make sure you give them your flight info, addresses, and itinerary in case of an emergency.
I share my location with family members and a select few friends especially if I am using Uber or ride services. 
Rather be safe than sorry.
Over Prepare
It's super important to be prepared for anything especially when you're alone. Research, make notes, and ask questions. Go through any scenario you think can happen and how you will respond. 
Knowing what could happen and how you will handle it can help ease your worries. You don't need to do this every single time but it will help until you are comfortable and used to traveling.
Plan your Arrival
Ok, you made it to your destination, now what? Make sure you plan how you are going to get to your accommodation from the airport. Public transport? Car service? Whatever you choose just make sure you have a plan.
Make Document Copies
I always have digital copies of my ID, credit cards, passport, and anything else I need. God forbid I lose something, at least I will have a digital copy. I also utilize a digital travel planner. I print it out while planning and then input all my information once it's finalized and that way I can access it while I'm traveling.
You can get my Travel Planner here.
Get a Good Night's Sleep 
Make sure you get a good night's sleep before your flight. You don't get very good sleep on a flight if any at all. It can be hard to get comfortable, fall asleep, and even stay asleep. 
Flying takes a lot out of you so getting enough rest before your flight is crucial. Having the right tools to be comfortable on a flight will help as well. 
I use the Dream Strap instead of a pillow. This helps prevent my neck from getting super sore and acts as an eye mask to keep it dark.
Use code "HYPEGIRL5" for $5 off
Wear comfortable clothing
Like I said getting comfortable on a flight, especially a long one isn't easy. Unless you are flying and immediately have to make a business meeting or you have special circumstances you probably don't need to dress up for a flight.
I never wear jeans on a flight unless it's super short and I have to be somewhere immediately. Jeans are not comfortable for me and if they are tight it can be uncomfortable if your legs swell from flying.
Speaking of leg swelling, make sure you get yourself some compression socks. When in the air, your body swells especially your legs and feet. You need compression socks to prevent swelling and any blood clots. 
Know the Airport Layout
This has been a huge help for me when arriving at a new airport. I always look up the airport and save the map. I try and see what terminal I will be arriving in and where I need to go from there. 
Stay Hydrated
Flying really does take a toll on your body. Swelling, drying out your skin, and draining your energy. Staying hydrated can help with all three of these. I always bring a reusable water bottle with me when traveling. Make sure it's empty when going through security and then fill it up at a bottle-filling station before your flight.
Check out Liquid I.V. as well. This is a powder you can mix into your water and it hydrates you 3x as much. There are tons of flavors to try. My favorite is the Golden Cherry. Use code "DIARYOFAWANNABEWORLDTRAVELER" for 25% off and free shipping.
Learn TSA Requirements
One thing that will help immensely when going through security is knowing the requirements. For example, the liquids rule. Only bring liquids that are TSA-approved size and in the correct sized bag. Knowing what you can and can't bring. 
Pack Light
I learned early in my travels that less is better. I never check a bag unless absolutely necessary or maybe on the way home if I buy too many souvenirs. But a carry-on and personal item is my preferred way to travel. Packing light makes life easier when navigating the airport. You don't have to go to the ticket counter to check in or find baggage claim, and wait an hour for your bag when you arrive. 
Pack Smart
Packing smart can mean many things to different people, but here are some of my tips for packing smart.
Keep anything you need for the plane ride in your personal item that is stowed under the seat in front of you to eliminate having to get up or ask anyone to move. 
Rolling your clothes and using compression cubes to give you more room.
Make sure you can easily access your liquids bag and electronics when going through security since you need to take these items out. You don't want to have to dig through your whole bag in the security line.  
Keep Important Items in Carry-on
I just touched on this but it's really important. Anything you need while flying, taking off, or landing should go in your personal item bag so it's easily accessible. 
If it's something you don't need on the flight but you may need it in the airport this can be placed in your carry-on and go in the overhead bin. 
Bring a Power Bank
Long-haul flights normally have outlets for charging your phone but I have ended up with a broken one a couple of times so I like having a portable charger just in case. 
I bring this charger and this cord so I can charge a gif the things I need without needing multiple cords.
Entertainment
Most long-haul flights have in-flight entertainment options. You can usually look these up beforehand as well. Always be sure to have backup entertainment in case you don't like what the airline is offering or in the unfortunate case where you get a non-working screen. This has also happened to me a few times. Lucky for me I always download shows to my phone or books onto my Kindle. 
Make sure you have Travel Insurance
Put your mind at ease and always purchase travel insurance. If your flight is delayed or canceled, your bag gets lost (another reason to only pack a carry-on), or you get sick or god forbid hurt while traveling travel insurance will normally cover it. Of course, there are always different circumstances so you need to read your policy and terms. My travel insurance choice is SafetyWing. It's cheap and reliable and the customer service team is amazing. All around they are a great company. You can read their policy types here. 
Be Aware of Flight Changes
Flight changes happen often. Most of these situations are out of anyone's control. Having the app for your airline and a backup plan will come in handy to alert you of any changes when they happen and what you should do in this circumstance. 
Checked Bag Tips
If you need to check a bag here are some tips. Check the weight limit with your airline and check if there is a fee. Some airlines offer the first checked bag for free, and some charge. This also may be dependent on the ticket you purchased.
If you have to pay for your checked bag. It is normally cheaper to do so online before check-in. 
Use a TSA-approved lock on your luggage. This keeps your belonging safe but also allows TSA to check your bag if necessary without ruining your luggage. Don't think that if you don't put a TSA-approved lock they won't check your bag if they need to. They still will, and they will cut your bag open if needed. 
Keep an eye on your bag
Unless you want airport police hounding you, do not leave your luggage unattended ever in the airport. Other than someone stealing it, the biggest concern is someone putting something illegal in your bag to get it on a flight. You don't even want the suspicion. Just keep your bag with you at all times. Yes, this means the bathroom too. If you are traveling with others take turns staying with the bags. If you are alone, luckily most airport bathroom stalls are large enough for your bags too. 
Be Aware of Your Surroundings
Along with keeping your eye on your bag, keep an eye on your surroundings. Just like in any new place you want to be aware of what's going on around you. If something feels off, it probably is. Leave any situation that doesn't feel right or find an officer or worker if you don't feel safe. 
Give yourself Grace 
After all this, know that no matter what you do. Whether your trip is a huge success or you make a mistake, give yourself grace. Traveling is stressful. There are so many variables and a lot of them we have no control over. 
Regardless, you did it! This is a learning process. I learn something new every time I travel and even as an experienced traveler, shit happens. It's not the end of the world. Try not to get too overwhelmed and enjoy the trip and the process. You got this! 
If you have any questions at all or more tips drop them in the comments. I look forward to chatting!