Welcome to the charming twin cities of Bristol, TN/VA, where the rich tapestry of history meets modern life. Nestled in the foothills of the Appalachian Mountains, straddling the border between Tennessee and Virginia, Bristol offers a delightful blend of southern hospitality, cultural gems, and natural wonders waiting to be explored.
Whether you're a history enthusiast eager to step back in time or an adventurous soul seeking outdoor thrills, Bristol has something for everyone. As you embark on your journey through this unique destination, prepare to be captivated by the harmonious fusion of two states, two cultures, and two sets of traditions that have shaped Bristol into the distinctive place it is today.
In this blog post, you will find the top attractions, local favorites, and hidden gems that make Bristol TN/VA a treasure trove of experiences. So let's dive into the array of exciting things to do in Bristol TN/VA.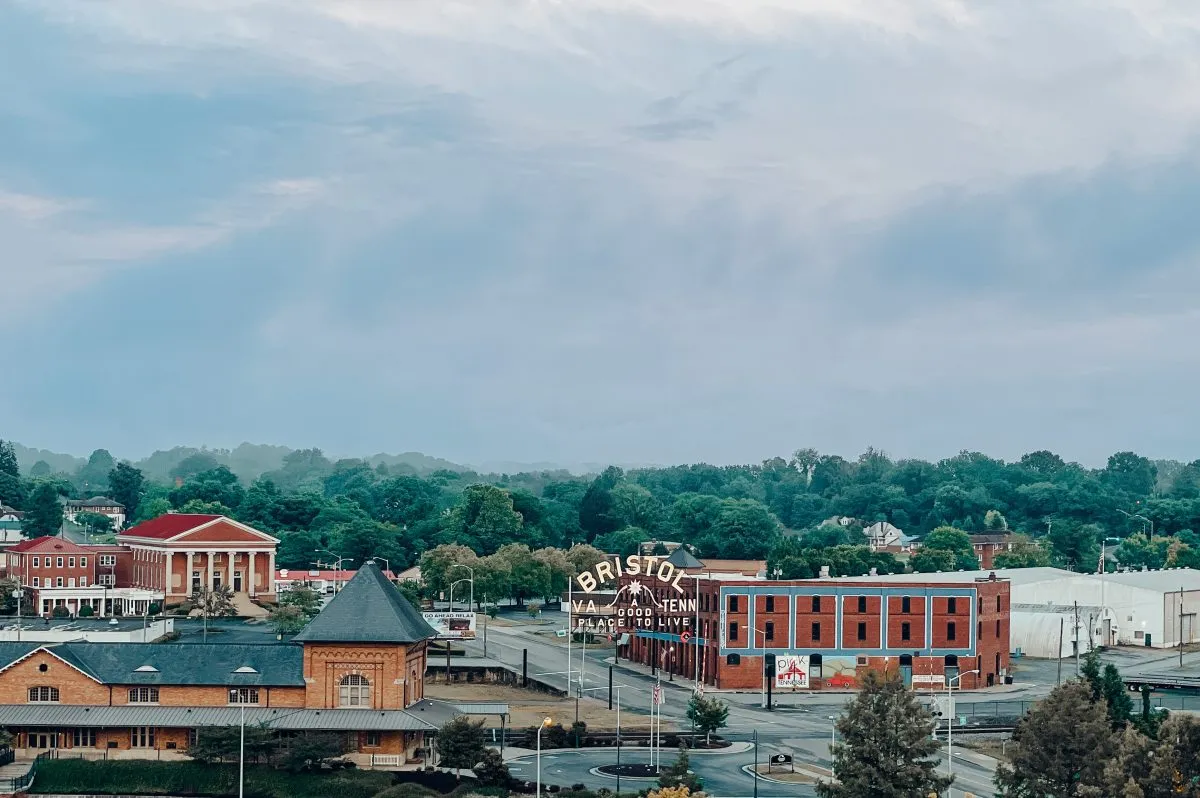 This article may contain affiliate / compensated links. For full information, please see our disclaimer here.
Where to Stay in Bristol TN/VA
Before we get into the things to do let's talk about where to stay. You could do a day trip to Bristol if you are in the area but I recommend at least a weekend so that you can explore everything and not be rushed.
The Bristol Hotel is the best around. In 2019, the hotel was named Top 10 Best New Hotel in the U.S. by USA Today and #21 in the Top 30 New Hotels by US News World Report. 
The Bristol Hotel stands as the lifeline of the Bristol community. As you step inside, you will be greeted with Southern hospitality and an inviting yet elegant ambiance. Stylish rooms and suites offering a comfortable stay awaits.
From the rooftop bar, guests are treated to breathtaking views of the city's skyline and the Appalachian Mountains. With its prime location to The Birthplace of Country Music Museum, which guests of The Bristol get free admission to, and in walking distance to most of the attractions in the city, guests can easily explore the city's vibrant history.
Events and live music are almost always happening at The Bristol so make sure you check out their website and social media pages.
If you have a furry friend, don't leave them at home. The hotel is pet friendly and they even offer pet amenities.
The Sessions is a boutique hotel that sits at the State Street entrance to downtown Bristol. Named after the iconic "Bristol Sessions" recordings that took place in 1927, the hotel seamlessly blends history with contemporary elegance.
With a rooftop bar overlooking the city and a state-of-the-art music venue hosting live performances, The Sessions Hotel not only offers a glimpse into the past but also celebrates the vibrant music scene that continues to thrive in Bristol.
The Sessions is also pet friendly offering pet amenities for your furry friend.
Things to do in Bristol TN/VA
Now that you know where to stay let's get into how to spend your time in Bristol. There are tons of great things to explore.
Historic Exploration
Birthplace of Country Music Museum
A must for music enthusiasts, this museum celebrates the iconic 1927 Bristol Sessions, which is considered the "Big Bang of Country Music". Immerse yourself in the rich heritage of country music and learn about it's roots. Explore interactive exhibits, engaging displays, multimedia presentations, and a vast collection of artifacts.
You can also explore the "Women in Old-Time Music" exhibit that has recently been added to the museum.
Bristol Sign and State Street
Experience the unique charm of the twin city by visiting the Bristol sign and State Street. The iconic sign, featuring "A Good Place to Live, showcases the sense of community and pride in the city.
State Street itself is the centerpiece of Bristol's cultural identity with the yellow centerline running down the state line, dividing the two cities.
Witness firsthand the harmonious coexistence of two states. From the welcoming atmosphere to the nostalgic vibe, the shop-lined street offers a unique experience for visitors.
Bristol Train Station
A symbol of the city's rich transportation history, visiting the train station will bring you back in time. Now serving as a backdrop for weddings and events, it is said that without the railroad there would have been no Bristol.
The station was built in 1902 and restored in 2006.
Visiting the train station is a chance to experience the city's heritage and immerse yourself in the nostalgia of an era where rail travel was the heart and connection of cities.
Outdoor Adventures
South Holston Lake
South Holston Lake is a true gem that offers a variety of activities. The reservoir is a paradise for boaters, fishermen, and watersport enthusiasts alike. Explore the crystal-clear waters and find secluded swimming coves. The picturesque shoreline and mountain vistas present a serene escape to connect with nature.
Virginia Creeper Trail
Located just outside of Bristol this trail makes a perfect day trip. Whether you are an avid cyclist, nature lover, or both, the Virginia Creeper Trail promises an unforgettable journey. This 34-mile trail offers breathtaking landscapes stretched through forests, along rivers, and over trestle bridges. 
I will say if you decide to do this trail make sure you have a first aid kit and the proper gear. I enjoyed my ride through this trail up until I lost control of the bike on one of the bridges. It was an accident but being as the trail is 34 miles long you need to make sure you have supplies just in case.
The trail is gorgeous and is definitely a must when in the area.
Steele Creek Park
A local favorite, Steele Creek Park, captures the essence of Bristol's outdoor charm. This park offers hiking trails, fishing ponds, and peaceful picnic spots. Over 2,000 acres of natural beauty await you.
Great Channels
For a truly unique wonder, venture out to the Great Channels. Located in the Channels state forest, this hike leads to deep sandstone slots. Hiking through here is truly beautiful. It feels like you are in a hidden world.
This makes for a perfect day trip. If you plan on doing this hike be sure to arrive early. There are only 10 parking spots available. If you park outside the designated spots you will get towed.
If you plan on adding this to your trip make sure you have everything you need for the hike. Check out our hiking guide here.
Arts and Culture
This is a program that aims to enhance the city's public spaces and enrich the cultural experience of the residents and visitors. This includes the installation of various forms of art throughout the community, such as sculptures, murals, and other public art displays.
The program collaborates with local artists and organizations to bring these ideas to life. 
Here are some of the pieces that have been a part of this program are:
Murals:
Birthplace of Country Music
Bristol Rhythm and Roots Reunion
Tree of Life
Nascar Mural
Sculptures:
The Birth of Country Music
Pioneer
Music on Main
Paramount Center for the Arts
Located in a beautifully restored theatre, the Paramount Center offers a captivating blend of past and present. The multipurpose venue offers an array of live performances including concerts, theatrical productions, dance shows, and film screenings. Check out their website to find a full list of shows.
Family-Friendly Activities
Bristol Caverns
Beneath the surface of Bristol is a subterranean wonder, the Bristol Caverns. Explore the ancient limestone caves and become mesmerized by the underground world.
Join a tour and be led through intricate rock formations while being told tales of local lore and geology.
Steele Creek Park Nature Center and Planetarium
We already touched on Steel Creek Park but they also have a nature center and planetarium! This is the perfect place to take the kids after a hike on one of the trails. 
There are tons of exhibits for them to explore. They can also stargaze in the planetarium and learn about the galaxies.
Bristol Motor Speedway
Known as the World's Fastest Half-Mile, Bristol Motor Speedway is a legendary racetrack. Watching a race at Bristol Motor Speedway is an electrifying experience, as the cars race around the track creating a thunderous roar. This is a must-visit for anyone seeking an adrenaline-fueled adventure.
Adult-Only Activities
Lumac Rooftop
Lumac is located at the top of the Bristol Hotel. With breathtaking views of the skyline, this is the perfect place to unwind after a long day. They have an amazing selection of cocktails, fine wines, and small plates to choose from. 
Lumac is an elevated experience that really captures the beauty and vibrance of the city. Make sure to try the Spicy Pineapple Mule, it's to die for.
Brewery and Distillery Tours
Bristol has a thriving craft beer and spirit scene. There are tons of places to visit, here are a few:
Lost State Distillery
Bristol Statio Brews and Taproom
Studio Brew
Holston River Brewing Company
Appalachian Mountain Spirits
State Street Brewing
Bristol Casino
The Bristol Casino opened in July 2022. It offers over 800 slot machines, 21 game tables, and 3 restaurants. By Summer 2024 the casino will become Hard Rock Hotel and Casino Bristol. 
Where to Eat in Bristol TN/VA
Bristol has an extensive dining scene that caters to a variety of tastes. Here are some of the top places to eat.
Breakfast/Coffee Shops
Blackbird Bakery
There are 2 locations including one that is drive-thru only. The other is a sit-in coffee shop. Their specialty is donuts but they serve great coffee, teas, and pastries as well.
Trailblazer Coffee
Trailblazer Coffee is a drive-thru coffee shop. They offer a wide range of coffee and non-coffee drinks available. You can also grab a breakfast bagel or pastry before starting your day.
Bristol Bagel and Bakery
Fresh bagels daily, need I say more? 
They also have a variety of homemade cream cheeses to pair with your bagel. Coffee and non-coffee beverages like chai tea, Thai tea, and bubbles teas can be found here as well.
Whimsicals
Located on the first floor of the Renaissance Center, Whimsicals is a grab-and-go style spot. They cater to people on the go with their ready-made sandwiches and bottled beverages.
You can find drip coffees, lattes, ciders, bottled teas, juices, and so much more here at Whimsicals.
Lunch/Dinner
Vivian's Table
Vivian's Table offers Southern-style cuisine with a twist. Chef Jason Van Marter, along with Food and Beverage Director Chaz Gallo, put so much thought into the menu selection and that becomes apparent when you taste the incredible food.
The gazpacho was so fresh and complex and the pork belly sliders. They were amazing. You have to try them when you visit.
Southern Craft BBQ
This is a must-visit for BBQ lovers. Southern Craft BBQ sits within The Sessions Hotel on State Street and has been voted "Best BBQ in the Tri-Cities." Enjoy tender slow cooked meats and classic Southern sides.
Enjoy a handcrafted cocktail or craft brew in the unique bar inside the Mill Building.
620 State 
620 State offers a casual and inviting atmosphere. They serve a diverse menu including everything from wood-fired pizzas and burgers to sushi and steak.
You will find the best fusion food here at 620 State.
Cootie Brown's
Known for it's eclectic menu, Cootie Brown's offers a diverse selection of international-inspired dishes.
The huge servings along with the service and atmosphere has made Cootie Brown's well known in Bristol. They also offer vegetarian, vegan, and gluten-free options as well.
They have everything from tamales to BBQ and burgers. Their key lime pie is a must-try.
Burger Bar
You can't visit Bristol without getting a burger from the original "Burger Bar". Burger Bar is a retro diner from 1942, located right at the start of state street. 
You won't be disappointed since Burger Bar was voted "Best Burger in Va" and has become a local icon.
The Angry Italian
The Angry Italian has become a favorite in Bristol. With award-winning Chicago-style pizza and Italian cuisine, you can see why.
They serve classic American-Italian dishes that will cure your craving.
Sweet Treats
The Southern Churn
Located on State Street, The Southern Churn is an ice cream and candy shop. Here you can find fudge, candies, and 26 unique flavors of ice cream. They also have Ashby's Ice Cream. Ashby's is a family-owned restaurant out of Michigan and has been making creamy ice cream since 1984.
Mercantile On State
Mercantile is a gift shop, boutique, and dessert shop in one. 
The dessert shop is a cookie dough bar and a sweets bar. You can find cookie dough, milkshakes, gelato, and more here.
Anthony's Desserts
So technically Anthony's Desserts isn't in Bristol, it's in Abingdon. Abingdon is only 20 min or so from Bristol and totally worth a visit if you are in Bristol. 
Read some things to do in Abingdon here.
Anthony's Desserts is a popular stop because of the homemade desserts you will find. Their menu changes every few months but there are always so many amazing things to choose from. They also make ice cream on-site.
So now you see that Bristol is a hidden gem that beckons to all those seeking an unforgettable adventure. This enchanting twin city, with its shared history and individual charms, offers a remarkable blend of past and present, cultural and nature, excitement, and tranquility.
So, whether you're a history buff, an outdoor enthusiast, an art connoisseur, a family seeking fun, or a traveler hungry for new experiences, Bristol eagerly awaits your arrival. I can't wait for you to experience all the things to do in Bristol TN/VA.
Have you been to Bristol? If not, are you ready to plan your trip?