Tallinn in the winter is one of the most beautiful things I've seen. Cobble streets blanketed with snow, Christmas decorations throughout the city, the smell of delicious treats at the Christmas market what more could you ask for?
Tallinn is often said to be one of the most beautiful cities in the Baltics. While it might be pretty cold experiencing a Tallinn winter should be at the top of your travel bucket list.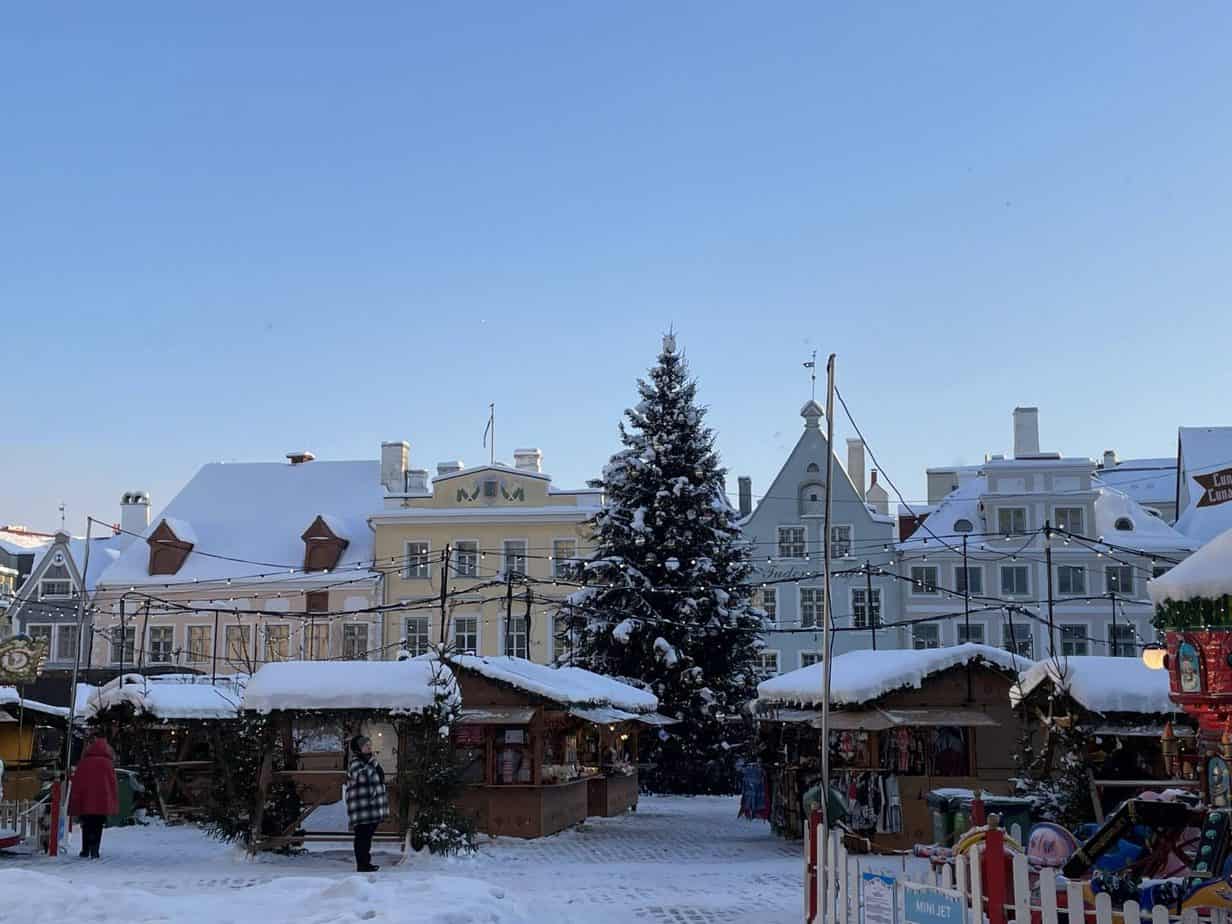 This article may contain affiliate / compensated links. For full information, please see our disclaimer here.
Planning a Trip to Tallinn in the Winter
I have never been to Tallinn in any season other than the winter. It was one of my first solo trips and one of my favorite places I have ever been. Although it's cold it is so beautiful and makes a great Christmas trip.
If you want to visit other places in Estonia check out our Estonia travel guide here.
What to Pack for Winter in Tallinn
Tallinn can get pretty cold in the wintertime. In the peak of winter the weather averages between 20 and 30 degrees Fahrenheit. It does rain/snow quite a bit during these months as well. I have to say the snow just adds to the winter experience in Tallinn. It really is a winter wonderland.
You definitely want to pack some winter items. Here are a few items I wouldn't travel to Tallinn in the winter without. 
I LOVE my Arctic Expedition coat. It's just about knee length making it extra warm, had a removable hood, and is really heavy. I can't find my exact coat online anymore but I found a few others that have good reviews. There are also a couple more affordable options because Arctic Expedition can be pricey.
Whatever you do make sure the jacket you choose is warm and waterproof because it may snow.
A pair of snow/winter boots are necessary.
I did not bring snow boots on my first trip. I brought some winter-ish boots. They worked pretty well but I did slip on the ice and fall a couple of times. You want something that is going to keep your feet dry and warm and is non-slip so you don't fall as I did.
Baselayers or thermal are a lifesaver. Layers are super important when going to Tallinn in the wintertime. I like to bring fleece leggings, thermals, and baselayers to put under my outfit.
Keeping your feet warm and dry is really important in cold weather as well. You can find a ton of different warm socks on amazon. I have a lot of hiking socks and that's normally what I bring. Here are some of my favorite brands.
You definitely want to keep your head and ears warm. Earmuffs or a winter hat are a must.
Fleece or sweater material will keep you the warmest when thinking about a scarf to bring. You can even find a scarf with a built-in pocket to put your money and passport in.
You absolutely don't want to go to Tallinn without gloves. The winds are crazy cold and trying to take pictures with no gloves on is torture. Gloves that are touch screen enabled are my favorite so I don't have to take them off to use my phone.
Want the whole Winter packing list for Tallinn? Check it out here.
Where to Stay in Tallinn
There are plenty of places to stay in Tallinn. In the winter time staying within walking distance of the Christmas market is my preference. It's always nice to pop over to the Christmas market for a mulled wine or just to enjoy the views before the end of the night.
This is my preferred place to stay. The staff is super nice and the hotel is cute and fairly inexpensive. The only downside for me is that there is no pool. The thought of heading into a pool or hot tub after a day of walking in the snow sounds amazing. 
Although Rija is my favorite there are a ton of great hotels in Tallinn. Here are a few others.
What to do during Winter in Tallinn 
Winter is normally associated with Christmasy things and Tallinn has a ton of things that are Christmas related during the winter but there is more to do than that. If you want to really experience Christmas in Estonia read our guide here. 
Christmas Markets
My FAVORITE thing to do in any city during the Christmas season is going to the Christmas markets. They are so freaking beautiful and a great way to experience the country you are visiting.
The Tallinn Christmas market has been voted the best Christmas market in Europe a few times and has about 200,000 visitors each year. The town hall square is transformed into a fairytale with decorations, stalls filled with food and handmade souvenirs, and of course, we can't forget the delicious mulled wine.
Museums
Tallinn has no shortage of museums to visit. You can find something for everyone here. There are art, history, and maritime museums. A few of the top-rated ones are:
Tip: If you plan on visiting more than one museum check out the Tallinn card here. It's a city card that gives you access to many museums and sights for free or at a discounted price.
Experience Local Food
Estonia is filled with delicious cuisine. Like with most coastal towns fish is a popular item on the menu, specific herring. It is very common to see herring on breakfast buffets and on most menus at restaurants throughout the city.
Rye bread, beets, potatoes, and marzipan are also extremely popular.
Another popular dish in Estonia is pancakes, which really are more like crepes but just as delicious. My favorite place to enjoy them is at Kompressor.
Sightseeing
Tallinn is a beautiful city filled with amazing architecture. Don't miss seeing Old town hall (especially in the winter, that's where the Christmas Market is) Alexander Nevsky Cathedral, the city walls, and St. Catherine's Passage. 
If you want to take some great photos while on your trip you can check out the most Instagrammable places in Tallinn here.
Shop
If you want to stay out of the cold or it's raining one day you may want to shop. There are tons of shops around Tallinn. The Balti Jaam Market is a fun authentic market with three stories of different shops and stalls. There's even a supermarket on the bottom floor. This is a great place to find some souvenirs to bring home too. Here are some of the best souvenirs to bring home from Estonia.
There is also a small mall not far from the city center if you decide you want to check that out.
Ice Skate
About a two-minute walk from the old town hall is an outdoor ice-staking rink. It was pretty packed the few days I saw it but it looked like a lot of fun! Just be sure to bundle up before heading out! 
Day Trip to Helsinki
I know, I know, why am I talking about Finland in a post about Tallinn in the winter? Well because you traveled all the way to Estonia and if you have the time, jumping on a ferry over to Helsinki for the day is a great thing to do experience during a Tallinn winter.
I took the earliest ferry out and the latest one in to ensure I saw everything I wanted to. Direct ferries is the website that I used to book my ferry tickets. They average about $50 roundtrip depending on the ferry line and times. 
Check out the cathedrals, and the Christmas market, and indulge in delicious food in Helsinki for the day. Check out our Helsinki guide here.
Warm up with some Glogg
If you are visiting the Christmas market Glogg is a must. (It is alcoholic so keep that in mind) Glogg is a type of spiced mulled wine and is served hot. The flavors I found at the Christmas market screamed Tallinn winter. 
My favorites were cranberry, blueberry, and black current. There may be a non-alcoholic version at some of the stalls or they also serve hot chocolate if that's your preferred way to warm up. 
Glogg is essential if I am visiting Tallin in the winter months. 
As I mentioned Tallinn is one of my favorite cities I've been to and experiencing a Tallinn winter is like a fairytale. Have more suggestions on what to do in Tallinn during the winter months? Let us know in the comments we'd love to hear more.