Imagine it, you've just had an amazing vacation in Estonia. You want to find something to bring home with you to remember your trip or something to bring home to your friends and family. What are the best souvenirs from Estonia?
From local gifts to shot glasses and postcards, here are a few of our favorite souvenirs we love bringing back home and gift to our family and friends. 
Planning a trip to Estonia? Check out our Estonia travel guide here.
This article may contain affiliate / compensated links. For full information, please see our disclaimer here.
1. Vana Tallinn 
Vana Tallinn is a traditional Estonian liquor. Its unique flavor consists of Rum, vanilla, citrus, and other herbs and spices. It can be enjoyed on its own or my favorite way, mixed in Glogg, spiced mulled wine.
You can find Vana Tallinn all around Estonia. It is really common to find it served in Glogg or hot chocolate at the Christmas Markets.
You can also get Vana Tallinn chocolate or marzipan too.
2. Juniper Wood Products
Juniper is a sustainable wood that is popular in the baltic states. Many things are made from juniper in Estonia including kitchen utensils, serving dishes, coasters, and more! These items are great souvenirs from Estonia to bring home as gifts or to keep for yourself.
You can find some of these products online but getting them in Estonia will ensure they are authentic, quality, and more affordable.
3. Knitwear
Handmade knitwear is always a great souvenir idea. I love finding unique handmade pieces at the Christmas markets or local shops throughout the city.
Wool items are very popular because of the cold weather in the Baltic region.
4. Postcards
Another great souvenir to bring home from Estonia is postcards. I love grabbing a few postcards from every place I visit. I have found some really unique ones over the years. 
Writing a little note about my trip and sending it to my friends and family from the country I'm in makes a great gift.
I have also heard of people who write a postcard and send it to themselves so they can re-read how their trip was going at the moment. I really love this idea but I never remember to do it.
5. Viking Dolls
The Viking figures are very popular around Estonia. Every souvenir shop sells them. You can find them in different designs and colors. Make sure you pick some that are handmade and authentic. I found my favorite ones at the Christmas Market by local women who make them all by hand with a group of ladies. Their business is called Nordic Gifts and they have so many different things to choose from.
They do sell their creations in different shops around the city but it was really nice speaking with some of the creators at the market.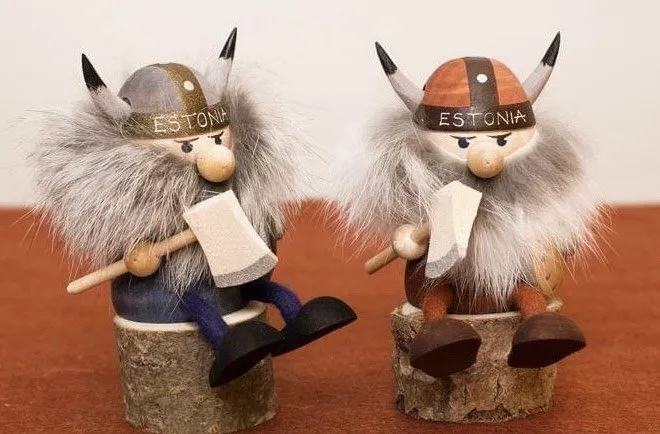 6. Jewelry
Jewelry is something that can definitely be expensive to get as a souvenir. I have a few thoughts. You can find some great quality pieces in different countries for cheap than in the U.S. You can find country-specific pieces to add to your collection. Or you can find pieces from well knows shops and designers from Estonia. 
Amber is very popular in the Baltic region and is beautiful. Amber is actually resin made from the fossilization of pine sap. 60 Million years ago a forest of pines existed in the current location of the Baltic sea and you can still find amber being washed up along the shore.
Jewelry is a way to express yourself. Finding pieces that really resonate with you but also tell a story makes the best souvenirs.
7. Kalev Chocolate
I love bringing home snacks, especially chocolate and candies. Kalev chocolate dates back all the way to 1806. They have a lot of different flavors to choose from. One of their most popular flavors is white chocolate blueberry and it is so good! You will definitely want to grab a few bars to bring home and a souvenir from Estonia.
8. Shot Glasses
I know collecting shot glasses might not be as popular as it used to be. They do take up quite a bit of space when you start collecting a lot of them and it can be inconvenient to bring them home in one piece. 
Kyle collects shot glasses so we always grab one from our travels. We try to look for super unique ones instead of the standard city or country names. 
Marzipan is one of the oldest sweets in Estonia. It's made of almonds and powdered sugar. At first, Marzipan was made to be medicine and was made in pharmacies.
Now marzipan is known around the world. In Tallinn, they have a marzipan museum and cafe. Here you can watch them create marzipan figures by hand and try some for yourself. 
I did link to a quality brand marzipan assortment on Amazon incase you want to try it, but it's not made in Estonia so I do recommend getting it there!
10. Christmas Ornaments
Now for my favorite Estonian souvenir! If you've been around awhile you know how much I love Christmas and the holiday season. We collect Christmas ornaments from our travels and put them on our tree.
It's my favorite way to showcase my travels and reminisce about them. When we are putting up the tree and we see all the ornaments it brings back all our travel memories. It's one of my favorite traditions we have. 
Again, the Christmas Market is one of the best places to find ornaments. (Can you tell how much I love the Christmas Market?) Want to visit Tallinn in the winter for yourself? Check out our post here.
Nordic Gifts is my favorite local brand for Christmas ornaments and figures. They are all handmade and beautiful.
So now that you know which souvenirs from Estonia are the best, it's time to start planning your trip! 
Here are more Estonia posts you'll want to read!