This guide was created to show you how to choose hiking boots. I know it can be overwhelming because there are so many different kinds and styles. Where do you even start? Don't worry, in this guide, we will show you how to choose the right hiking boot for you.
This article may contain affiliate / compensated links. For full information, please see our disclaimer here.
Types of Hiking Shoes
Barefoot / Minimalist Hiking Shoes
Barefoot shoes are exactly what they sound like, they make you feel like you are barefoot. They normally have a thin, flexible but grippy sole. They offer a spacious toe box to mimic the feeling of being barefoot. Barefoot hiking shoes don't offer much cushion so I don't recommend them for rough trails.
Minimalist shoes are in between a barefoot shoe and a tennis shoe. They are thin and flexible like barefoot shoes. They offer no arch support and are lightweight.
Shop Barefoot Hiking Shoes on Amazon
Shop Minimalist Hiking Shoes on Amazon
Hiking Sandals
Hiking sandals are great for summer and low-risk trails. Your feet stay dry and cool when wearing them, especially if you have to cross a stream on your hike. I love my Teva hiking sandals. I wear them to amusement parks as well since they offer better support than normal sandals and can wear them on water rides.
Trail Running Shoes
Trail running shoes are comfortable and lightweight. They are breathable and normally offer a soft midsole. Keep in mind there is no ankle support in these types of shoes. Trail running shoes are also not suitable for winter or icy conditions.
Shop Trail Running Shoes on Amazon
Hiking Shoes
Hiking shoes are a bit heavier and stiffer than the previous shoes we talked about. The biggest difference between hiking shoes and trail running shoes is that hiking shoes have stiffer midsoles.
A good pair of hiking shoes also offer ankle support but still are not recommended for winter or icy conditions. A waterproof pair of hiking shoes is a great choice especially if you will be hiking in areas that flood often.
Hiking Boots
Hiking boots are my top choice for hiking footwear. They are mid-cut boots that offer great ankle support and are great for winter weather. They have thick rubber soles for extra protection against rocks.
You can find great insulated and waterproof options that keep your feet warm and dry while hiking in the snow or through streams. They can be heavier than the other shoes which makes them take longer to dry if they do happen to get wet inside.
Backpacking Boots
Backpacking boots are high-cut, durable, provide ankle support, and are designed to support a heavier backpack. Many people think hiking and backpacking boots are the same, they aren't. The biggest difference is that hiking boots are more for day trips and backpacking boots are for carrying around more gear for several days.
Shop Backpacking Boots on Amazon
Mountaineering Boots
Mountaineering boots have stiff soles and are either water-repellent or waterproof. They are super durable and are also insulated to keep your feet warm in the winter. Since they are made for climbing they can be uncomfortable on flat ground.
Shop Mountaineering Boots on Amazon
The hiking boots I use and love are actually considered backpacking boots. (I had no clue they were backpacking boots until I looked them up again.) They are Salomon brand boots and are super comfortable. 
REMEMBER: No matter what kind of hiking footwear you choose, you need to break them in before your hike.
How to Choose Hiking Boots
When choosing hiking boots you need to consider the type of hiking you will be doing. Answering these 3 questions below will be a huge help in determining the type of hiking shoe that is best for you.
What type of hiking will you be doing?
How heavy will your backpack be?
How long will you be hiking?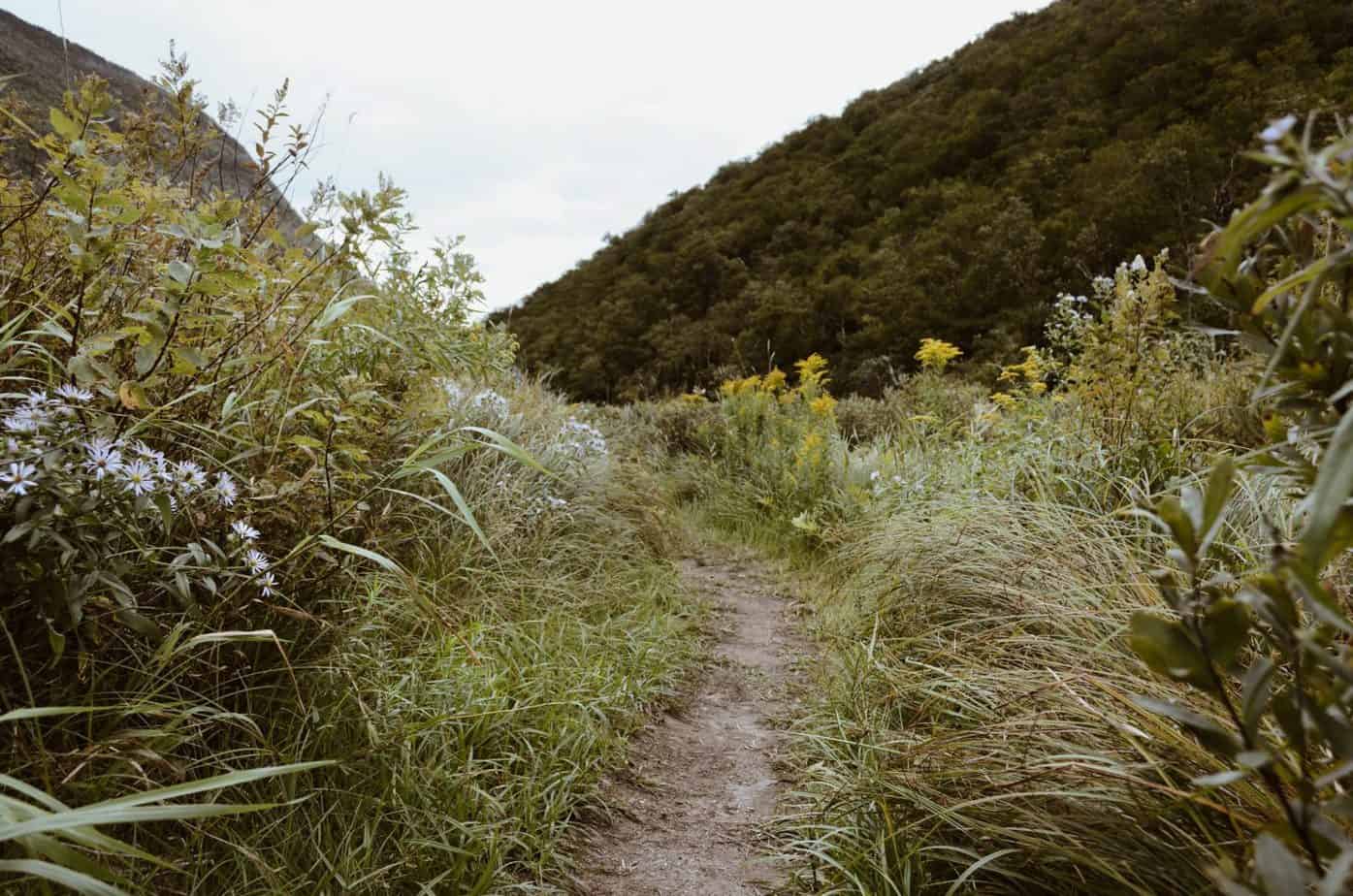 Types of Hiking
Hiking routes are classified into 5 different classes. Typically, when you are looking up hikes there won't be classes listed next to them. You will have to go off of the descriptions and reviews.
I don't think I have hiked anything over Class 3. Although, after a few hikes my body may have felt like I had been rock climbing.
Class 1:
Low-risk hiking. These trails are normally highly trafficked and well-marked trails. Now, this doesn't mean you won't see beautiful views or gain some elevation, it just means you won't need any gear other than your hiking boots and backpack (with the 10 essentials of course).
Class 2:
Some of these trails can have portions that are not well-marked. Always make sure you are carrying your map or directions. Class 2 trails can be unsteady and require you to step over loose rocks. You may need to use your hands to balance on parts of the trail, but for the most part, they are easy to moderate. Hiking boots are highly recommended for these trails.
Class 3:
Here is where the trails start getting hard. Class 3 trails include rugged terrain. You may be using your hands to cross rock scrambles and climb steep hills.
Class 4:
Class 4 hikes are considered more rock climbing than hiking. You will definitely need rock climbing gear for these "trails."
Class 5:
Now class 5 is absolutely rock climbing. You need all kinds of rock climbing gear. I have never rock climbed so I can't speak to all the gear and safety measures you should take but here is a great rock climbing resource. 
How heavy will your backpack be?
The weight of your backpack will affect the hiking shoes you choose. Heavy backpacks can be tiring to carry. Choosing a sturdier pair of hiking boots when carrying a heavier backpack is a good choice.
If you are carrying a light backpack then trail/hiking shoes or hiking boots can be a great choice.
How long will you be hiking?
If you are hiking short low-risk trails then choosing a lightweight trail shoe or hiking boot is a great choice.
For longer, rugged trails, more durable hiking boots, or backpacking boots will be the best choice.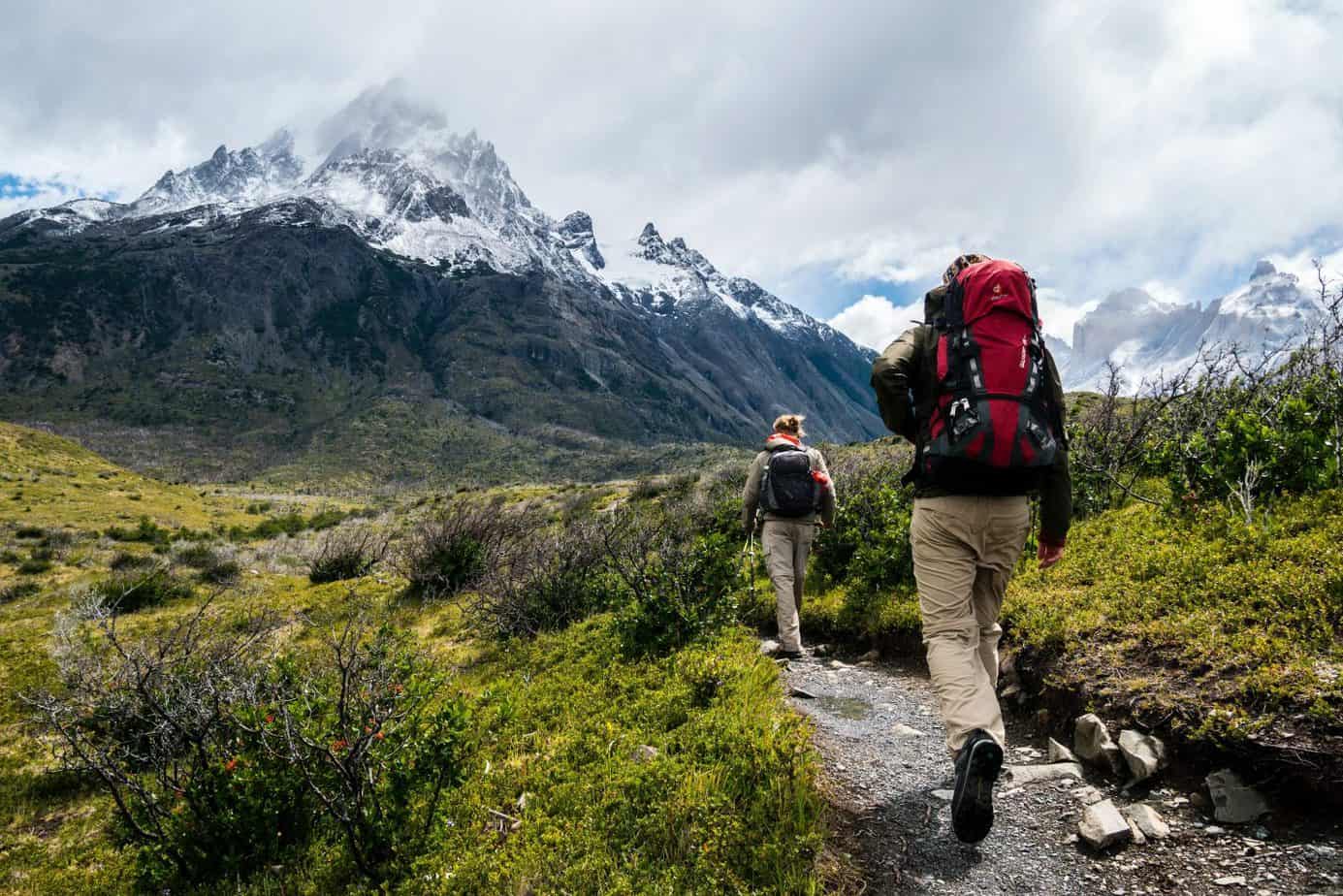 Buying your shoes from an outdoor store so you can measure your feet and try them on is the best option. You could also try on in-store and then buy online if it's significantly cheaper.
When trying on hiking boots make sure you try them on with a good thick pair of hiking socks.
If you get your shoes in-store (Kyle and I both purchased ours from REI and the gentleman who helped us was great) there is normally someone who can help you pick out the best shoes for you, measure the right size, and help with any questions you may have.
I hope this guide helped you figure out how to choose hiking boots. Need help choosing the right hiking boots? Let me know in the comments and I can do my best to help!