Dome tent, seasonality, tent footprints, if you are confused reading this don't worry, you aren't alone. Buying a tent can be overwhelming if you don't know what you're looking for. In this guide to buying a tent for camping, you'll find all the information you need to choose a camping tent that's right for you.
From car camping to extreme winter camping. There are a lot of things to consider when buying a tent. Remember that tents can be a considerable investment so let's dive in!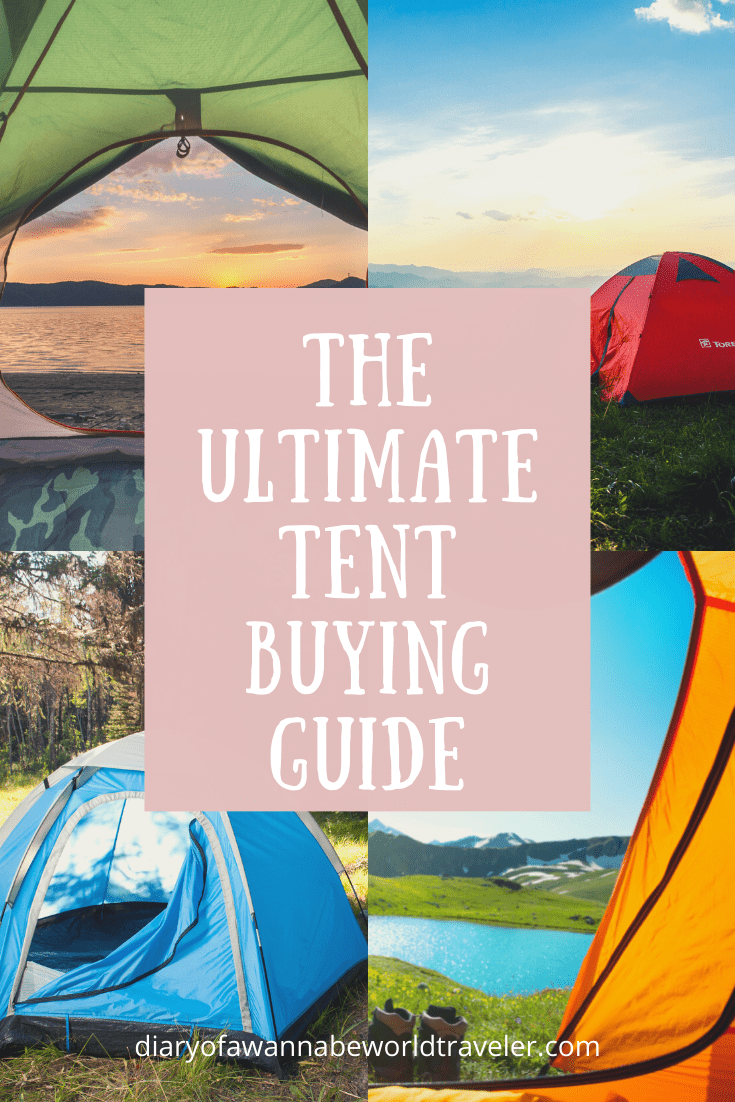 This article may contain affiliate / compensated links. For full information, please see our disclaimer here.
Things to Consider When Choosing a Camping Tent
What kind of camping will you be doing?
One of the biggest things to consider when buying a tent for camping is what kind of camping you will be doing. If you are backpacking, carrying a 6 person family tent is not something you want to carry around on the trails.
So start by making a list. You may want to do different types of camping and that's ok too but make a list of what kind of camping you will be doing and what things you need out of a tent. 
For example, we camp at campsites (driving to a campsite) and we want to do some backpack camping too. So weight would be a factor for me so that I can use the same tent. So make a list and see what you come up with. While reading the rest of the tent buying guide you may find a few other things you want to add to your list.
You can read our Camping guide here for everything else you need for your camping trip.
Don't want to read the whole post? Here is my tent recommendation for beginner campers: 
This is a great beginner backpacking tent. At about 5 pounds it is lightweight enough to fit in your pack. It's windproof and waterproof which is perfect for when the weather becomes unpredictable.
This is a two-person backpacking tent. It will fit two people pretty snugly without much room to move around. So if you need the extra room or plan to hang out in your tent and not just sleep you may need a bigger one.
All in all, this is a great tent for backpacking and it's priced well under $100. If you want to check out more backpacking tents under $100 check out our post here.
This Coleman camping tent is a great option. It is a dome-style tent and easy to assemble. It comes with a rainfly and has big windows to help circulate air.
This specific one is a three-person tent so you have a little bit more space if there are only two of you. This tent does come in a range of sizes from two people up to six people.
How many people will be sleeping in the Tent?
Now think about how many people will be sleeping in the tent. You want to make sure there is enough room for everyone to comfortably move around the tent. 
Some people also like to have room to put chairs in the tent and hang out. We usually don't hang out in our tent unless the weather is bad. We prefer to hang out by the campfire enjoying nature.
A good rule of thumb is to get a tent one size bigger if you don't want to be too cramped. So if there are two of you using the tent and you want a little more space, get a three-person tent instead.
Just remember the bigger tent you get the heavier it will be.
Tent Seasonality
Tent seasonality. What the heck is that? Tent seasonality isn't necessarily telling you how many seasons your tent can be used, it's is a rating. 
Tents are rated 1-5. Each brand and retailer have its own season guidelines that they follow. That can make it difficult when choosing a tent but here are the basics.
1-season tents
1-season tents are the most basic. They are normally very thin and are intended for summer use. They have very light waterproofing usually so they shouldn't be used if you expect any rain more than a quick shower.
I don't recommend 1-season tents unless you only camp in warm weather without any rain. 
2-season tents
A lot of retailers consider 1-season and 2-season tents to be the same. They are both super basic and not intended for rain and wind. The only difference is that these tents some with or without a rainfly.
Even with a rainfly though, it won't hold up in harsh rains.
3-season tents
3-season tents are the most common, versatile tents, and are usually the most bang for your buck. 
These tents can withstand harsh rainstorms while still remaining ventilated enough to breathe and be comfortable in warm weather. Even though these tents are not specifically made for winter weather you could make them work for mild winter weather with the right gear. If you are planning on winter camping check out our guide here.
Most 3-season tents come with a rainfly but if you find one that you love and it doesn't you can always purchase one. 3-season tents are made to hold up in heavy rain and winds. Some will even do well in mild snow.
4-season tents
Ok, so remember when we said that seasons didn't necessarily mean how many seasons you could use your tent. 4- season tents are the perfect example. 
4-season tents are made primarily for the winter. You may be able to get away with using them in the fall but in spring and summer forget about it. Unless you want to sweat while you sleep.
These tents are usually made with double-layered fabric that is heavily weatherproof and waterproof. They are made to withstand moderate snowstorms and extreme winds.
Keep in mind because of their extra thick layers these tents will be heavier. 4-season tents will also be more expensive than 1-3 season tents.
Tip: you can convert your 3-season tent into a winter tent by adding some insulation. Here are 11 ways how you can insulate a tent for winter camping.
5-season tents
The last type of tent is the 5-season tent. These are your expedition tents. These are meant for the most extreme weather and harshest of winters. 5-season tents are extremely expensive so unless you are a professional or camping in harsh winters you probably don't want or need a 5-season tent.
How much do you want to spend on a tent?
Price is definitely a factor when purchasing anything, and a tent is no different. There are some amazing budget tents out there. 
Good tents range anywhere from $50 all the way to hundreds and even thousands of dollars depending on what you are looking for.
Just be sure to read the rest of this post. You don't want to settle for a cheap tent and it ends up breaking on your first night. 
Just like with anything the higher the quality the more it will cost.
If you are a beginner camper and don't want to spend a fortune, don't worry there are great tents out there that don't cost an arm and a leg.
Tips for buying a camping tent
I'm sure you can tell by now that buying a tent isn't always as easy as you think. Here are some tips on how to choose a camping tent.
Rent before you buy
Some retailers like REI let you rent tons of outdoor equipment, not just tents. You can check out their website here to see pricing and availability.
Renting a tent can be a great way to try out and experience it before you commit to buying one. Especially if you are considering a large tent or a luxury tent, renting is a great option.
Try it out in the backyard first
Whether you are renting a tent or just decide to buy one make sure you try it out in your backyard first. There's nothing worse than getting a new tent, going on your first camping trip, setting up your tent, and realizing that a piece is missing or you don't know how to put it together. 
Just trying it out in your backyard or living room if space allows will get you comfortable with putting up your tent and taking it down.
Is tent weight a factor?
We briefly talked about weight but let's just go over it again. If you are doing all car camping (driving and parking at a campsite) weight most likely won't be an issue. 
If you are backpacking then the weight will undoubtedly be something to consider because you have to hike with that on your back to your camping site. You can get a tent specifically for backpacking/hiking that is lightweight but these will also be smaller and lightweight. 
All this to say just keep weight in mind especially if you have to carry your tent for a long period of time. 
How to choose the right size tent
Like I said I recommend if you need a 2-person tent to get a 3-person tent if you want it to be a little more spacious. 
Another thing to keep in mind is if you camp with your dogs. We camp and hike with our dog more often than not. Our dog is not small. He takes up about as much room as a person and he likes to move around so getting a two-person tent wasn't an option for us. We needed to be able to move around a bit and give him a little room as well.
If you do camp or hike with your dog you may be interested in our Dog Hiking First Aid Kit post here.
Choosing the right type of tent
There are multiple types of tents to choose from. Let's go over the different types and decide what's best for your camping style. 
Dome tent
Dome tents are one of the most popular types of tents. Most commonly designed for 2 and 4 people they can still run on the smaller side. You lose peak height with dome tents since the sides slant towards the top.
The slanting will make it hard to stand up straight if you are taller.
This Coleman dome tent is one of the best tents for beginners. It's affordable and easy to put together.
Tip: Dome tents are pretty affordable. They are usually easy to set up making them great for beginners.
Cabin Tent
Cabin tents are usually larger in size and made for sleeping more people. The sides are also more vertical making it easier to stand up straight.
The size of these ranges from 4 people all the way up to 12 people. Cabin-style tents can be equipped with dividers and some even have spaces for closets. 
This Cabin tent can sleep up to 9 people. It's pretty big but makes a great family tent. It comes with room dividers and a rain fly.
Tip: Some campgrounds have concrete tent pads to place your tent on so they aren't directly in the grass or dirt. Since these tents are larger be sure to check the size of the pad on the campground website to ensure that your tent will fit.
A-frame tent
A-frame tents are more traditional-style tents. They are lightweight but not free-standing. They have to be staked somehow and sometimes have lines attached to make them more stable. Since A-frame tents are lightweight and compact they also make good backpacking tents. As long as the weather won't be too bad.
Tip: If you are backpacking and prefer A-frame tents you can use your hiking poles as a stake to save space in your backpack.
Tunnel Tent
Tunnel tents have an arched design which offers more interior space. They may not be as sturdy in windy conditions so you may want to bring extra weights or stakes. 
This tunnel tent has a two-bedroom detachable design. You can use both rooms as bedrooms or you can use one to store a bike or other camping equipment. It's easy to set up and can sleep 1-3 people.
Instant tent
Instant tents are exactly that, instant. They are designed to be able to just unfold, extend, and secure the poles in place. If you are getting a big tent Instant tents are a great option because it will require less work to put up.
Here is a 4-person instant tent that fits a queen size air mattress inside. This one is double layered and comes with a rainfly for extra protection.
Pop up tents
Pop-up tents are another great choice if you want a quick and easy setup. They just pop up and are staked down.
Backpacking Tents
Backpacking tents are normally smaller and lighter since they are made for those hiking to their campsite. They are usually 1-2 person tents but they do have 3 and 4-person sizes too.
Pricing will depend on brand and size etc. but you can find a lot of great backpacking tents for under $100 here.
I love this backpacking tent. I would recommend this tent to anyone who wants to camp or backpack. It's super lightweight and can be put together quickly and easily. It's less than $100 so if you are a beginner and don't know what you are looking for this is a great starting point.
Yurt and Teepee style tents
I love teepee and yurt-style tents. I love the way they look. 
Yurts are normally a larger size and can be expensive. Teepees are smaller but feel spacious. 
A lot of campgrounds have teepee and yurt rentals if you want to experience them but decide that they aren't practical for your everyday tent.
Tent Accessories 
There are a ton of tent accessories that most likely come with your tent. You have your choice of options and can get replacements if needed.
Tent Poles
Tent poles are normally aluminum or fiberglass. Aluminum poles will be lighter in weight than fiberglass but fiberglass is cheaper. Budget tents normally come with fiberglass poles. 
If you have a tent pole break you can get replacements online.
Tent stakes also come with your tent and will most likely be of cheaper quality. You can buy better-quality replacements online. Some tents will come with extras which come in handy in case you break a stake while driving it into the ground.
Tent footprints are a great item to have. It's a piece of material that goes under your tent to protect it from getting holes or rips. Some tents will come with a footprint but if not you can always buy a tarp and put that down under your tent.
Extras
Having a broom and dustpan is great to keep your tent floors clean. Dust easily gets brought into the tent when walking in or on your shoes.
Having a floor mat for the inside or outside of your tent can be useful to cut down on the dirt being brought into the tent. This also allows you to keep wet or dirty shoes outside of the tent on a mat to dry off.
Having tent repair patches is always a good idea in case your tent rips while camping. These ones on amazon are great and affordable.
A seam sealer is great in case you get a small leak at the seam of the tent. 
It's always a good idea to have extra stakes and anchors just in case.
Rainfly
If your tent doesn't come with a rainfly purchasing one is a good idea. Just having that extra protection from the rain is always good. 
Tip: When looking for a rainfly search for one that fits your specific tent. This way you don't risk it fitting weird and end up with rain pouring into your tent.
I hope this post was useful and you are now ready to choose a camping tent. Let me know if you have any questions in the comments. Now let's go camping!