This article may contain affiliate / compensated links. For full information, please see our disclaimer here.
Overview
Florida, also known as the sunshine state, is an amazing state to visit! From Walt Disney World and Universal Studios to the beaches and nightlife there are so many things to do in Florida. In this guide, you will find everything you need to know about planning your trip, what to pack, and even some Florida travel tips.
I love Florida so much. I think there was a span of time that I went to Florida twice a year at least, for about 5 years. Florida was one of my first vacations I went on as a teenager, for my senior trip, without my parents so it was one of the first trips that I felt like I had some freedom to do all the things that I wanted to do. 
Florida has so much to offer for everyone. Here are some great Florida travel tips that will make you want to book your trip ASAP.
Tips for Planning a Trip to Florida
Best Time to Go to Florida
Florida is an awesome state to visit any time of the year! There are so many attractions for travelers year-round. You can visit miles of coastline beaches, Walt Disney World, The Kennedy Space Center, and even the southernmost point in the Continental US. These are just a few of the many activities you can enjoy in the wonderful state of Florida. 
The fall and spring is typically the best time to travel to Florida. During this time the weather can be milder than the scorching summer heat and the crowds thinner because school is in session and the unpredictable weather keeps some people away. 
The winter season can also be a popular time to travel to the southern part of Florida. With the mild weather staying warm year round it's the ideal place to escape the winter cold and relax on the beach in the sun. Florida is even a popular winter destination for the retired, a group of people called Snowbirds!
The weather in Florida can be a bit dramatic. Summer in Florida can be brutal with the heat and the humidity, temperatures all over the state rising well up into the 90s from early spring to later in the fall. In addition to that high heat and humidity, there is also a potential for hurricanes making landfall. Be sure to keep an eye out for any big storms forming in the oceans and be aware of where they are tracking to hit. Hurricane season runs from June-November (for 2021). 
No matter what time of the year you pick to travel to Florida, there will be something fun to keep you entertained.
Estimated Budget
Depending on what kind of trip you are planning, Florida can be enjoyed on almost any budget. Budgeting will end up depending a lot on the time of year you plan on traveling and the area of Florida you want to travel to. But if you plan ahead you can keep everything in your budget! Below are the average costs as of 2021, be aware that prices will change over time, but these will give you an idea of expenses while traveling to Florida.
Accommodations
Hotels range anywhere from a cheaper $50 a night all the way up to $330 per night. The average ends up being around $110 per night for a hotel in Florida. 
The prices will depend on when and where you stay. During Spring Break in Miami, some of the hotels can be as expensive as $1.200 per night for the higher-end hotels and $200 per night for the mid-range hotels. 
Food
Food prices, just like hotels, can range depending on where you decide to eat. Florida offers a great range of price points for any kind of budget. From small cafes and bakeries, food trucks, or fancy high-end restaurants, there's something for everyone. On average eating out in Florida typically costs around $18 per person. 
Transportation
While it depends on which city you are traveling to, Florida does offer some public transportation to help you with getting around. 
Bus or Trolley: Many of the larger cities have a bus or trolley service that you can use. Looking up the individual city's route maps will help you plan to get around easier. 
Shuttle Services: A shuttle service is offered by Florida Shuttle Transportation to travel from major city to city.
Car Rental: Always an option if you like being more on your own time and schedule. There are multiple options for renting cars while visiting Florida and prices normally average out to $74 a day. There are cheaper options depending on when you book your rental car, how long you have it for, and what style of car you pick. 
Note: If you are renting a car make sure you take the cost of gas into account when budgeting. 
What to Pack for Florida
The temperatures in Florida typically stay pretty warm through the year, dropping down a little bit during the short winter. With a long summer, lasting from May to October, the weather is both humid and warm. The short summers tend to be dry and the colder temperatures only last from December to February. 
These are some of the best items to bring with you to Florida no matter what time of the year you are traveling!
Sunscreen – Protecting yourself against the strong sun is important year-round. Don't forget that Florida is known as the Sunshine State!  Many people don't think about sunscreen when they aren't going to the beach, but the sun can cause burns no matter where you are. Sunscreen with a least 30 SPF should be used and reapplied throughout the day to keep you safe.
Note: If you plan on snorkeling or diving there are some sunscreens that are Reef Safe. This means that they are safe and wont harm the coral reefs in the ocean.
 Sunglasses – The sun in the Sunshine State is bright! Polarized sunglasses are highly recommended, especially if you're going to be out on the water. That reflection off the water can be a killer for your eyes if left unprotected.
Sun Hat– Protecting your head and face from the sun is also important! While we were in Florida in June of 2019 all three of us ended up with sunburned scalp. Take it from me, it's extremely painful and not something you want to deal with. 
Swimsuit – A swimsuit is a must for traveling to Florida. When you are soaking up the rays on the beach or poolside wearing a swimsuit is the way to go. There are even multiple waterparks in Florida to enjoy while rocking your favorite suit. 
Reusable Water Bottle – The heat and humidity in Florida are no joke. It's always important to stay well hydrated, but especially so if you are spending more time than usual in the high heat. Purchasing single-use water bottles can add up in price and is more harmful to the environment, so bringing along your own reusable one is a great way to save money and stay hydrated.
Need more packing tips? Check out some of our packing tips and tricks here.
Where to Stay in Florida
Booking your accommodations in advance will help you save money, especially if you are traveling during peak season. When we have been to Florida we've stayed at a few different hotels! These are some of our favorites:
Kissimmee, Florida – Vacation Village at Parkway (our favorite place to stay). This is centrally located between the Amusement Parks and is a great place to stay. 
Florida City, Florida – Fairfield Inn & Suites by Marriott
Airbnb is also a very popular way to stay. There are some amazing options and can even help you save some money if you have a kitchen and can cook some of your meals there!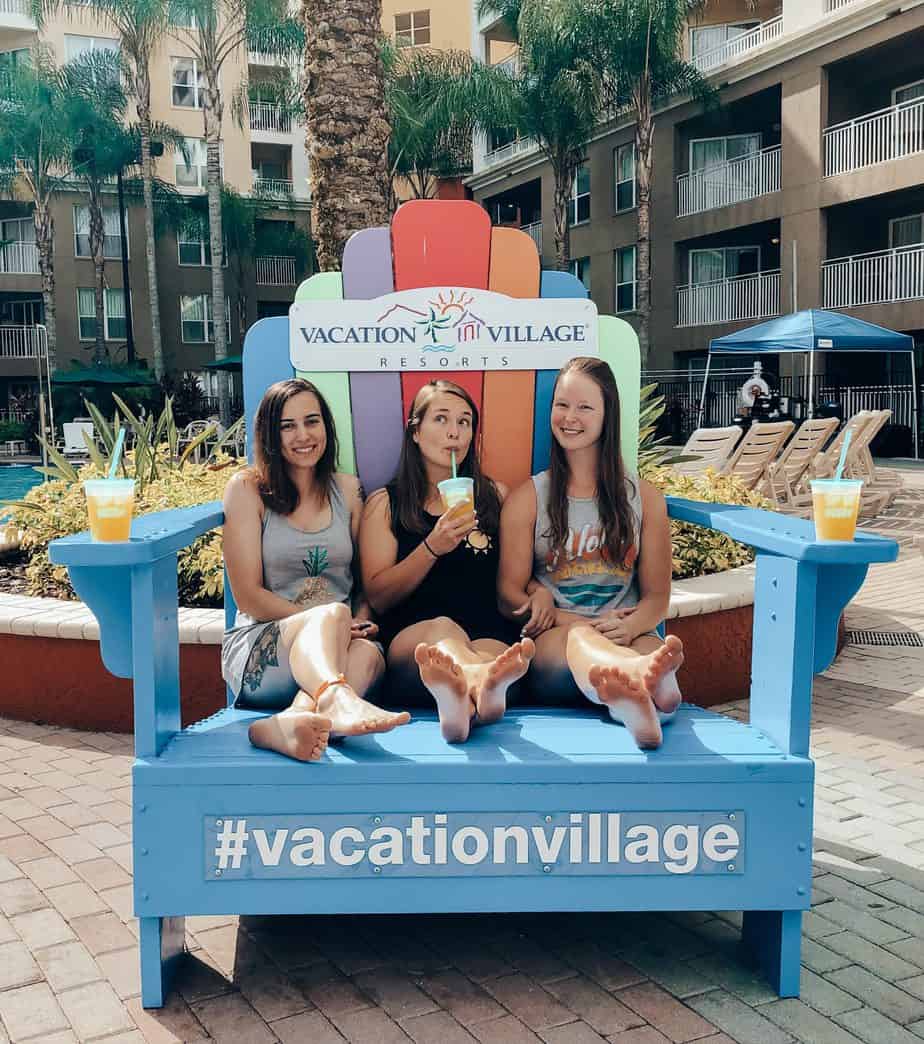 Best of Florida -Travel Tips
Top Cities to Visit in Florida
Orlando
Probably one of the first cities that will pop into your head when you think about Florida. Orlando is filled with exciting entertainment to fill your entire trip with fun. This is one of the places we've visited multiple times over the years and continue to want to go back to. Orlando is home to the famous Walt Disney World, Universal Studios, and the Kennedy Space Station. From amusement parks, museums, shopping, and great nightlife there are plenty of attractions to keep anyone in the family happy and entertained. Here are things to do in Orlando that aren't theme parks.
Miami
Miami, located at the southern tip of Florida, is known for its gorgeous beaches and amazing nightlife scene. Miami is actually known as the "Magic City" because of the unique mix of beach vibes and urban culture. In addition to the beaches and nightlife, Miami also offers the Biscayne National Park for nature lovers, the Bayside Marketplace for some shopping, and the Art Deco Historic District. There is always something fun to do there.
Key West
Key West, known for being the southernmost point in the continental United States, features beaches, more nightlife, historic areas, and delicious foods. Enjoy a slice of Key Lime pie while watching their famous gorgeous sunsets during happy hour, snorkel along the reefs to see a collection of incredible marine life, or just soak up the sun on one of the many beaches. There is also a giant anchored concrete buoy that marks the southernmost point and makes for a great photo opportunity. 
Sarasota
Located on the western coast of Florida, Sarasota is a great place to visit. Some of the main attractions for this city include pristine golf courses, historic landmarks, stunning gardens, and of course the beautiful beaches. It is known for being a great place to travel with the family while still being easier on a budget.
Tampa
Tampa, located on the west coast of Florida is a major city and has tons of great attractions for the whole family. Busch Gardens is one of those main attractions and filled with exotic animals, safari rides, roller coasters, and water rides. Tampa is also home to a zoo with more than 2,000 animals, the Florida Aquarium, and the Glazer Children's Museum. Adventure Island, located just across the street from Busch Gardens, is one of Tampa's most popular attractions. 
St. Augustine
Known for being the Nation's Oldest City, St. Augustine is located on the northeastern coast of Florida. In addition to its gorgeous beaches and delicious dining, the historical landmarks make St. Augustine a great place to dive into history. In addition to multiple museums and beaches, St. Augustine also has a wild reserve, an alligator zoological park, wineries. 
Best Things to do in Florida
Soak up the Sun
Florida has a lot of beaches, 825 miles of beaches to be specific. That is an insane amount of beachfront. There are so many options on which beach to visit, but there are a few that edge out the others in popularity. Clearwater Beach, located along the Gulf Coast, offers miles of white sand and clear waters perfect for a relaxing day. Key West is another popular city to travel to for some good beach fun. Bringing a happy dog along? Jupiter Beach is an off-leash dog beach located in Palm Beach County.
Enjoy an Awesome Amusement Park
Florida is well known for being the home of Walt Disney World, but there are a ton of other amusements to visit there too. Universal Studios, Seaworld, and Gatorland are all located in Orlando with Walt Disney World. Tampa has Busch Gardens and also Adventure Island, a waterpark.. For all the Lego enthusiasts, Winter Haven is home to LEGOLAND. There are so many different options on amazing amusement parks to visit while in Florida. 
Rock the Nightlife
Florida has hundreds of bars and clubs to enjoy after you've spent the day soaking up the sun or enjoying an amusement park. Key West has gorgeous sunset happy hour sailings, live music performances, and even drag performances. Miami also has an amazing nightlife with rooftop bars, dance clubs, and dive bars. It's safe to say the fun doesn't stop when the sun goes down in Florida. 
Appreciate the Arts
Florida has a large array of different art museums. The Salvador Dali Museum is located in St. Petersburg and displays over 2,000 pieces of art by the Spanish painter. There is even a self-guided scavenger hunt to help get the kids involved in the visit to the museum! Downtown Miami houses the Perez Art Museum and features modern and contemporary arts. This museum also includes some hands-on activities as well as hanging gardens and waterfront views to enjoy. 
Take in the History
If learning the history of the places you visit is one of your interests, Florida has some great museums dedicated to their history. The most popular one is the Museum of Florida History and is located in Tallahassee. This museum features items from Spanish shipwrecks, a mastodon skeleton that's 12,000 years old, and more. If pirate history is more your style the St. Augustine Pirate & Treasure Museum dives into the lives of real-life pirates and how they lived. They have a huge collection of authentic pirate artifacts too. 
Hike in Nature
Florida boasts three national parks and multiple other state and local parks for any nature lover. The Everglades National Park is located near Miami and is over 1.5 million acres in size. There are a few different ways to enjoy the park, including the waterway trail and gator tours. Dry Tortugas National Park is also located in the southern part of Florida off the coast. With all of the amazing marine life there, it's a great place for fishing, snorkeling, paddleboarding, and diving. 
What to Eat in Florida
Key Lime Pie 
Key lime pie is one of the more famous food items to come out of Florida. Key West is the best place in Florida to enjoy this delicious creation. It's a perfect combination of sweet with a little tang to it from the key limes. If you are in Key West stop at Blue Heaven for Happy Hour drinks and a piece of their delicious key lime pie.
Oranges
Growers in Florida produce a few different types of citrus fruits, but oranges have jumped out as one of their most well known. The climate in Florida is ideal for growing the oranges as the high humidity and heat are perfect conditions for the orange trees.
Gator Tail 
One Florida speciality is gator tail. While Florida has a large alligator population, the gators served in restaurants are farm raised. The gator tail can be served in multiple different ways from deep-fried bite-sized nuggets to more refined soups, or even a slab of alligator ribs covered in BBQ sauce. No matter how the gator tail is served, it will be a delicious experience. 
Conch Fritters
While these are originally from the south of Florida in the Bahamas, conch fritters have become a very popular Floridian dish. These fritters are typically a mixture of conch meat and peppery seasonings for a blast of flavor. Key West has a ton of different restaurant options for enjoying some of these fritters.
Florida Travel Tips for International Travelers
Language
The official language in the United States is English, however, there are influences of other languages depending on where you are traveling in the country.
Florida's main language is English. Some parts of Florida have a large population of people from Spanish-speaking regions, so it's not uncommon for Spanish to be spoken as well. In Miami specifically, about 60% of the population actually speaks Spanish!  
If you are ever traveling to a country where you are not familiar with the main language, you can download the language on the Google Translate app beforehand! If you download the language you want before your trip, then you can use it even if you are offline, which is extremely helpful. 
Passport/Visa
If you are a US citizen you can travel amongst the United States without restriction. 
For non-US citizens, a great place for information on traveling to the United States is the website for the Bureau of Consular Affairs. There is a section on this website where you can look up information about visitor visas, the visa waiver program, and more!
According to their website, if a foreign national would like to travel to the United States for tourism purposes a visitor visa (B-2) is required unless they qualify for the Visa Waiver Program. Information on how to apply, the required documentation, and any associated fees can be found. Be sure to check it out to see what the requirements for a visit are! 
 ( https://travel.state.gov/content/travel/en/us-visas/tourism-visit.html this is the website I looked on for this info)
Currency
United States Dollar (USD, $)
If you are visiting from another country keep in mind the exchange rate is constantly fluctuating but can be checked with a quick Google search.
Credit Cards and ATMs
Most businesses throughout the United States take credit cards, especially in the main tourist cities. You will still have to make sure you have cash on hand though. If you are in a smaller town or if you take public transportation you will need cash.
If you plan on renting a car you will need a credit card that matches the name of the person renting the car. Make sure to let your bank or credit card company know that you will be traveling to ensure they don't flag your transactions as suspicious and freeze your account.
We normally take out some of the currency we will need before traveling and then use our Capital One Venture card when we can. It has no transaction fees and makes our lives much easier.
Adapter
The United States power outlets are 120V and either a two-prong or three-prong socket. We have this universal adapter with a surge protector to make sure we are always prepared when traveling.
Safety
Like most of the United States, safety in Florida really depends a lot on location. There are certain cities and areas of cities known for being more dangerous when traveling than others. 
The best thing to do is look up the area you are traveling to in order to learn more about their specific safety risks. For example, Key West has a relatively low crime rate but using common sense when exploring and keeping belongings secure are good ideas. However, Orlando is known for being less safe. There are specific neighborhoods known for having higher violence and property crime, so it's extremely important to learn more about the area you are traveling to before going. 
One of the best things you can do before any trip is to get travel insurance. Having travel insurance can protect you against cancellations, theft, and even injury. We don't travel anywhere without having insurance. Our favorite travel insurance is provided by World Nomads. Check out our post on Travel Insurance here.
Transportation
Public transportation in Florida is very city-dependent. Depending on the city, there are buses and trolleys, bike-sharing programs, and shuttle services. Google Transit is also helpful for mapping out a route for traveling. 
Some cities even have free services for the public to use. In Key West, there is a free bus route that runs from along Key West's famous main street. This Duval Loop has 18 stops and is a great way to explore some of Key West. Orlando, on the other hand, has the I-Ride Trolley Service with multiple routes around the city. This service is an affordable form of transportation, with the ability to purchase just a single ride or an unlimited ride pass for up to 14-days!
I would suggest renting a car if you plan on visiting multiple cities or attractions while on your trip. Each time we've been to Florida we've had a vehicle to get us around and it helps so much. While public transportation can be nice, it also does take a lot of time and sometimes money depending on where you are going and what the schedule is for the service. Having the flexibility of starting the day and moving onto the next activity at any time is great freedom when renting a car. But, also keep in mind that you may have to pay for parking at some of the destinations as well.