I have always thought a snow-covered town was magical. A European snow-covered town, breathtaking. I didn't realize how amazing a European Christmas was until I experienced Christmas in Estonia.
Festivals, food, and mulled wine (YUM!), there are plenty of things to do and experience during Christmas time in Estonia. This guide has all the information you need to know about Estonian Christmas traditions and how you can experience them for yourself.
Not super interested in doing Christmas in Estonia? Check out our Tallin Winter guide here for more ideas.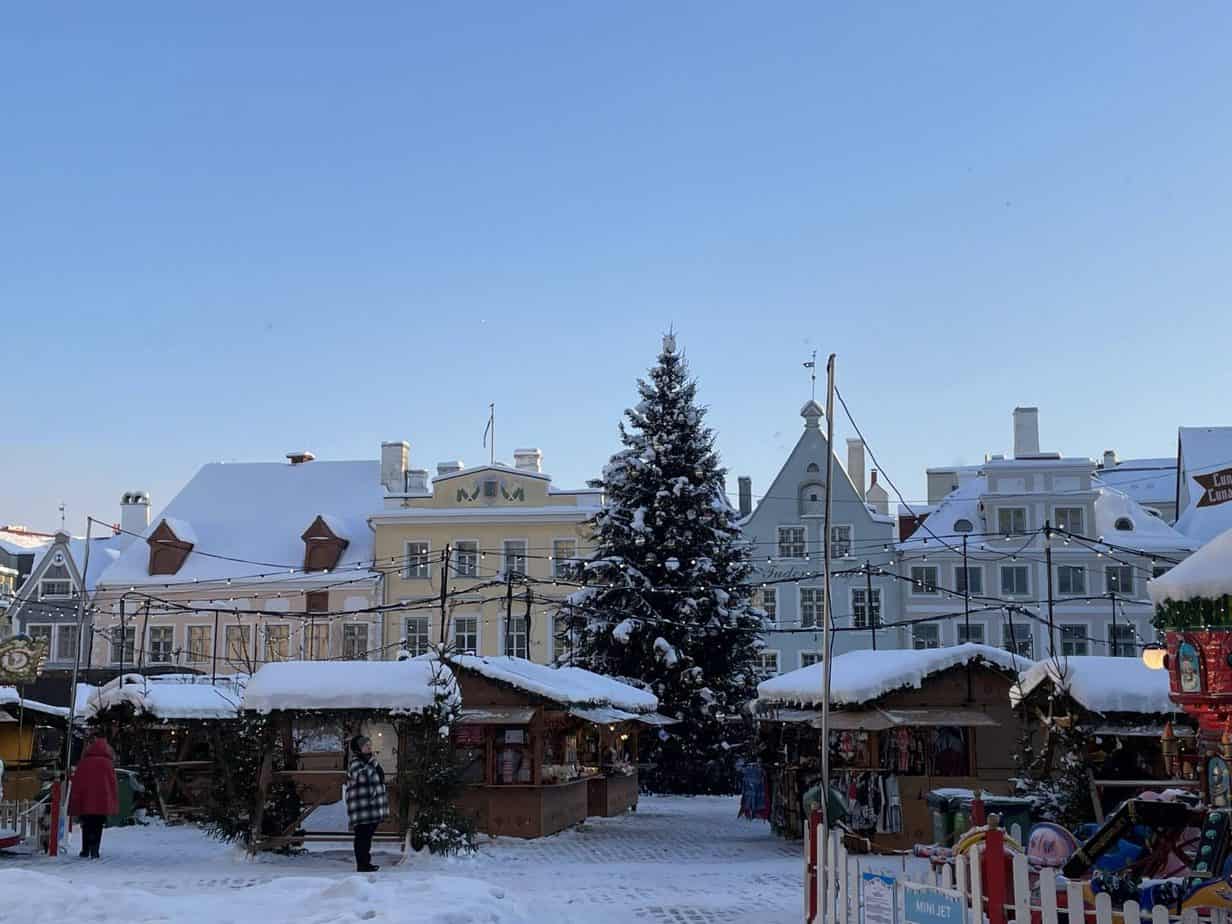 This article may contain affiliate / compensated links. For full information, please see our disclaimer here.
Traditional Christmas in Estonia
Christmas Traditions in Estonia
Christmas is one of the most important holidays in Estonia. In the traditional folk calendar, Christmas time started with St. Thomas's Day on December 21st and ended on January 6th.
Now the Christmas season starts with Advent and ends on December 26. To start off the holiday season Advent calendars are bought and candles are lit. Children hang their socks on the window ledge and every day until Christmas Eve an elf comes and puts sweets in them.
Having Christmas Trees inside family homes was adopted by the local German-speaking population. The tradition spread to the countryside and now the habit of having Christmas trees in schools, homes, and churches is very popular.
Normally a few days before Christmas is when families get together to decorate their Christmas trees and prepare their feasts.
On Christmas Eve after all the preparations many Estonians will head to the sauna to bathe. This practice is also done on New Year as well. After the sauna, it's time to head to the local village church for the Christmas Eve service.
Santa visits on Christmas eve night, handing out gifts in exchange for people telling him poems.
Traditional Estonian Christmas Food
According to old traditions, seven to twelve meals were served on Christmas night. Having plenty of food at home is symbolic meaning there will be enough food for the whole coming year. 
This is why big meals are normally consumed on Christmas Eve and Christmas Day. A Christmas bread called Christmas barrow was also baked and offered to the barn animals.
Food was always to remain on the table for the night and it was forbidden to peek under the table. This was a sacred place for spirits to dwell so any food that was dropped was left there until the next day.
The staple foods include blood sausages, pork with sauerkraut, and potatoes. Christmas bread and gingerbread are also baked. You may also see apples and mandarin oranges enjoyed as a treat.
Experiencing Christmas in Estonia
Now that you know about the old traditions let's talk about how you can experience the joys of Christmas while visiting Estonia.
Where to go for Christmas in Estonia
In my opinion, the best place in Estonia to experience Christmas is in Tallinn. 
During the holiday season, Old Town Tallinn turns into a fairytale city. In 2019, the Tallinn Christmas Market was voted the best Christmas Market in Europe. It still is ranked among the top Christmas Markets in Europe and is also ranked as one of Europe's safest Christmas Destinations.
If you want to learn more about different cities to explore in Estonia you can read our full Estonia Travel Guide here.
Where to Stay in Tallinn for Christmas
There are plenty of great places to stay in Tallinn. You can choose from hotels in Town Hall Square right next to the Christmas market or if those aren't within the budget, there are cheaper options that are still within walking distance.
I stayed at the Rija Old Town Hotel which was less than a 10 min walk to the Town Hall where the Christmas Market is held. The property was great and the staff was super friendly and helpful. You can read our full review here.
Here are a few other highly rated places to stay near Town Hall Square.
Rija Old Town (my top pick)- 8 min walk from Town Hall Square
Hotel L'ermitage – 15 min walk from Town Hall Square
St. Olav Hotel–  3 min walk from Town Hall Square
Von Stackelberg Hotel–  13 min walk from Town Hall Square
Where to Eat for Christmas in Estonia
What is Christmas without delicious food? Whether you are spending the actual holiday in Estonia or you just want to experience Estonia's Christmas cuisine you won't be disappointed with these delicious options.
Note: I don't know if all these restaurants are open on Christmas day so be sure to check before heading there.
No matter what time of the year Old Hansa is a great place for a traditional Estonian meal. This medieval-style restaurant is the home of a rich merchant. All the guests enjoy an authentic meal and friendly service.
This restaurant was an unexpected surprise. This meal (I had the hanger steak) was one of the best meals I've had in a long time. They have plenty of delicious options, including vegetarian options.
This is one of the most popular restaurants in Old Town Tallinn. If you want to try it out be sure to book your reservations way in advance. Vegan options are also available!
Things to do for Christmas in Estonia
There is so much to do in Estonia, even more so at Christmas time. Here are some of our favorites!
Christmas Light Display
There are countless Christmas decorations put up all over Tallinn. Anywhere you go you will see beautiful light displays especially if you are walking. Stop and enjoy the lights, take some pictures, and take it all in.
Christmas Market
My FAVORITE part of Tallinn was the Christmas market. If you are looking for a real Christmas experience the Christmas market is the way to go. The tree is huge and makes a gorgeous backdrop for photos.
I could spend all day at the Christmas market exploring, eating, looking at all the handmade items, and drinking Glogi (mulled wine). The Christmas Market is a great place to grab souvenirs for friends and family. You can find our favorites here!
Ice Skating
Ice skating is always an awesome Christmas activity. There is a cute outdoor ice skating rink right near old town Tallinn. Grab some hot chocolate or Glogi and head over to the ice skating rink. Just don't forget to bundle up!
Museums
If you get too cold and want to warm up, why not do it while checking out an awesome museum. There are plenty of great museums to check out around town. Here are some of the most popular.
Sightsee
One of the best things to do in any place you are visiting is sightseeing! You should always check out the main tourist attractions. I love walking around and just seeing where I end up. It's a great way to find other things you didn't see when researching the city.
Shopping
There are a lot of great shops in Old Town Tallin and within walking distance.
Shopping in local stores is a good way to find souvenirs to bring home. I typically try and stay away from souvenir shops and check out the local grocery stores and other local shops.
I try not to buy too many things while on a trip but we do collect a couple of souvenirs from each place we go. We always get a shot glass and an ornament or two if there are a bunch of cute ones. Ornaments are my favorite souvenirs. I love decorating my tree every year with all of the ornaments we have collected from different places. 
Looking for more things to do while in Tallinn during the holidays? Check out this video from Visit Estonia for more ideas.
Now that you know all the great things you can do in Estonia for Christmas you are ready to plan your trip. I hope you find Christmas in Estonia just as magical as I did!