Traveling out of the country for the first time can be scary, I know. Traveling can take you out of your comfort zone, but that's ok! Don't let fear hold you back. Traveling to a new country is something everyone should experience. All you need to do is relax, do your research, and have a great time. Let me help ease those fears by sharing the 7 best countries to visit for first-time travelers.
Traveling to a new country will get easier and less daunting each time you do it. But you have to start somewhere. If you need help planning your first trip out of the country click here.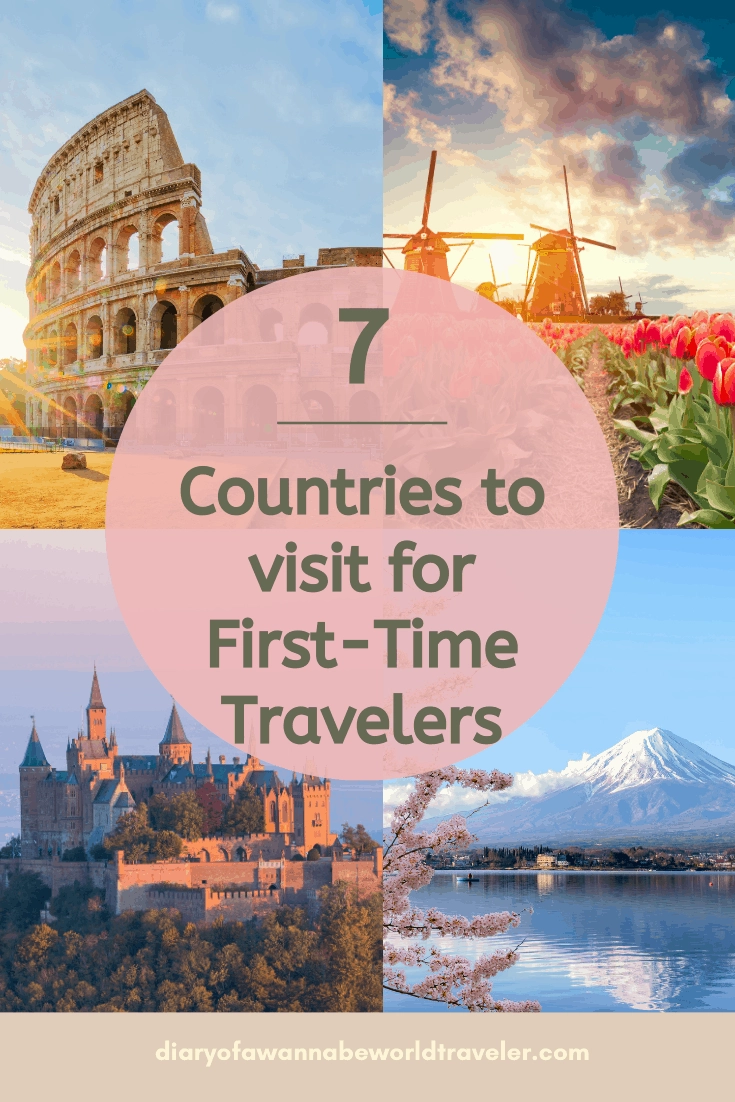 This article may contain affiliate / compensated links. For full information, please see our disclaimer here.
1. Iceland
Iceland has been ranked the safest country in the world for at least the last 10 years. It's a beautiful country filled with gorgeous landscapes like black sand beaches, lagoons, and tons of waterfalls.
Although I always suggest that you learn a few basic words in the native language of the country you are visiting, almost everyone speaks English in Iceland so if you get lost or just want to chat with a local that shouldn't be a concern for you.
Driving in Iceland is fairly easy to navigate as well and you don't need an international license. Just show your credit card, passport, and driver's license and you should be able to rent a car.
Ready to travel to Iceland? Check out hotel prices and tours on Trip Advisor.
2. The Netherlands
Known for its tulip fields and windmills, the Netherlands is another one of the best countries to visit for first-time travelers. English is widely spoken by 90% of the Netherlands population. It's a safe and easy country to navigate. If you stay in the city you can walk or bike almost anywhere and their extensive public transportation system makes traveling to different cities easier.
Ready to book your trip to the Netherlands? Check out hotel prices and tour groups on Trip Advisor.
3. Germany
Germany was one of the first places Kyle and I traveled to and it was amazing. A lot of Germans speak English, especially in tourist cities like Munich and Berlin. In some of the smaller towns, they do speak English but it's always more respectful to know a few German words.
Driving in Germany isn't as bad as everyone makes it out to be. An international driver's license isn't needed to drive or rent a car there. Germans do drive fast, especially on the autobahn, but if you follow the driving rules and stay calm you will be fine.
The best part about visiting Germany is all the beautiful things to see and the beer of course. If you go into the city there are so many things to see, restaurants to enjoy, and endless things to do. If hiking is more your style check out Berchtesgaden National Park and hike to the ice cave or hike near one of the thousands of castles there are to see.  
Check out our Germany planning guide here.
4. Australia
Australia is a great country to visit for first-time travelers. It's a beautiful country and pretty easy to navigate. While Sydney is one of the most expensive cities in the world there are a lot of free things to do that will help you save money.
Getting around is easy with Uber and cabs available. If you want to visit outside Sydney you can hop on a bus or subway for cheap. If you are comfortable with driving on the opposite side of the road you can rent a car and road trip through Australia.
Ready to book your trip to Australia? Check out hotel prices and tours on Trip Advisor.
5. Italy
The first country we visited and it happens to be where my family is from so Italy will forever hold a special place in my heart.
 Italy is such an amazing country. While English is only by about 14% of the population if you are visiting the tourist cities you will find most of Italian speak English there.
When visiting Italy you will be overwhelmed with so many amazing sights to see and the food… The food in Italy is the best food I have ever had. It is pretty budget-friendly to eat while in Italy as well. You can get a pizza, pasta, and gelato on just about every corner, but don't forget the wine.
Transportation is easy to navigate. They have buses, trams, and metros all over that will take you to another city pretty quickly and is usually cheap. To rent a car in Italy you do need an international driver's license. When we visited we chose not to rent a car and I will say that we saw some crazy driving while we were there so just keep that in mind.
Ready to plan your trip to Italy? Here is our Ultimate Italy planning guide.
6. Denmark
The second safest country in the world is Denmark. It is also considered to be the world's happiest country. If you haven't read The Year of Living Danishly, you should, it's a great book.
While Denmark has a population of less than 6 million and is about the size of Maryland, there is so much to discover in this beautiful country. There are beautiful clean beaches that are rarely busy, museums, amusement parks, and so much more.
Denmark has a wonderful transportation system so getting around the country will be easy. If you are visiting Copenhagen then you can absolutely see everything you want to on foot. Just make sure you're wearing the right shoes!
Ready to book your trip to Denmark? Check out hotels and tours on Trip Advisor.
7. Japan
If you are looking for something more exotic for a first trip abroad, Japan is it. While there is a language barrier, English is much more common in tourist cities like Tokyo and Kyoto. Most of the major signs, such as road signs, train, and subway signs are in both Japanese and English. The Japanese are so friendly that even if they don't speak English they will try to help you as best they can.
There is so much to see in Japan. From gardens and temples to skyscrapers and pop culture, there is something for everyone to see.
There are so many different foods to try including the most famous, sushi. Most of the restaurants will have plastic displays or food or menus with pictures so you can easily point and order if you need to.
Excited about the thought of traveling to Japan? Check out hotels and tours on Trip Advisor.
I hope you enjoyed this list of the best countries for first-time travelers. No matter what country you choose to be your first, as long as you do your research, learn a few words in the native language, and have an open mind you will have a great time. What country did you visit first? Let us know in the comments.