Bringing your furry friend along on your hike makes it so much more enjoyable. It's a great way to get some exercise for yourself and your dog. There are a few dog hiking essentials you need before you start on your hiking adventure.
This article may contain affiliate / compensated links. For full information, please see our disclaimer here.
Dog Hiking Essentials
1. Dog Backpack
Dog hiking backpacks can be super handy, especially if you are backpacking or hiking multiple days in a row. You can easily pack all your dog essentials into their pack and they can carry all of their gear. Just be sure not to fill the pack with more than 25% of your dog's body weight. Also remember to condition your dog to the weight of the pack, just like a human they need to get used to carrying the bag.
2. Emergency Rescue Harness
Hopefully, you never need to use this, but we never hike without it. We have a Pack-A-Paw brand emergency harness. God forbid, your dog falls and breaks their leg. This harness will allow you to carry them safely off the trail.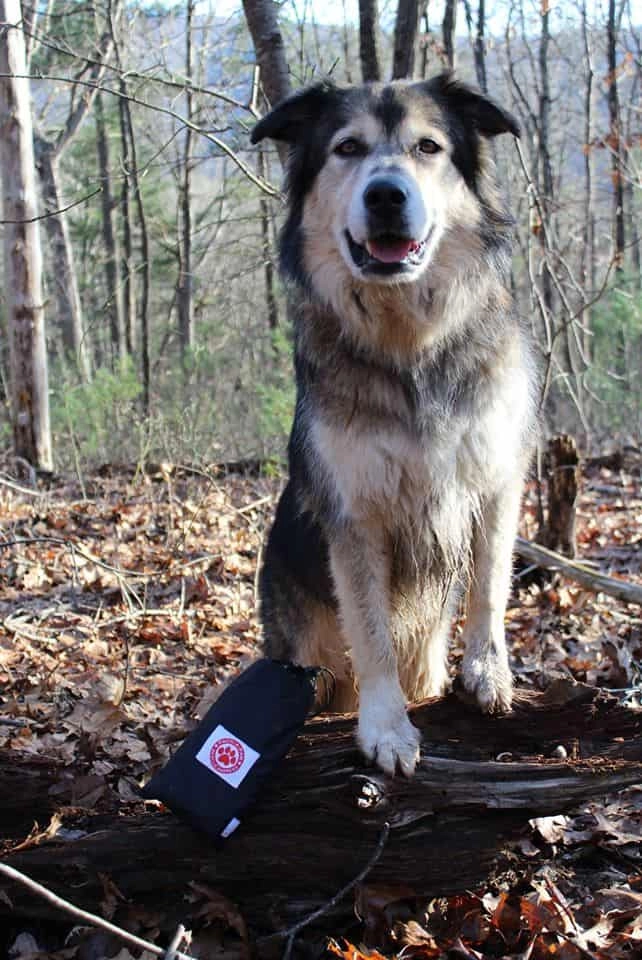 3. Leash
Depending on the trail you may be required to have your dog on a leash while hiking. Even if it's not a requirement it's a good idea to have one so you can have control over your pup. If you want full use of your hands you can consider a hands-free leash option. These leashes are typically bungee and attach to a loop around your waist. 
We love slip lead leashes because you can easily toss the loop quickly over your dog's head instead of trying to clip the leash to their collar. 
4. Collar/Harness
If you don't have a slip lead then a collar or harness is essential to be able to clip their leash to. Even if you are using a slip lead leash it's a good idea to have their collar with information tags attached. 
5. Treat Pouch
Having a treat pouch with treats handy is always a good idea when hiking with your dog. 
6. Cooling Vest
If you are hiking in the heat having a cooling vest is great for keeping your dog from overheating. Be aware of the signs of overheating in dogs. 
7. Hiking Boots
We don't normally hike in extreme weather but if you do a set of hiking boots for your pup is a great idea. They can protect their paws from getting soaked in the snow or burnt in the heat. They are also good for protecting them from sharp rocks and sticks. Pup hiking boots can also be used in the event that your dog hurts their foot and needs some added protection on the trek back. 
8. Poo Bags
Leave the trail as you found it! Always carry poo bags and pick up after your dog.
9. Dog First Aid Kit
There are specific first aid kits sold just for dogs. They contain similar items to a human first aid kit but you can also put together your own first aid kit for your dog. Here is everything you need to have in your dog first aid kit.
10. Collapsible Food and Water Bowls
Water is a must when hiking for you and your dog. It's a good idea to bring them food as well just in case you get lost or hike longer than you originally planned. Collapsible food and water bowls are super convenient to carry when hiking. You can also bring along dog energy bars in lieu of their normal food. These bars, such as Ruff Bar of TurboPUP, can be fed as snacks to keep your dog's energy up during a long hike.  
11. Travel Water Bottle
Travel water bottles are super convenient. You can quickly give your dog some water without having to dig out the bowls. We have a Kurgo brand travel bottle with a bowl that slides right onto the bottom so it doesn't take up any extra space in our pack. 
12. Pet-Safe Insect Repellent
Wondercide has been our preferred insect repellant and is safe for animals. It works wonders and smells great. It actually kills all fleas and flea larva within 2 minutes of application and kills ticks within 4-24 hours of application. We love the peppermint scent the best. 
13. Paw Balm
Dogs put a lot of strain on their paws. They can easily get dry, cracked, and irritated. Paw Balm can be applied before a hike to help protect them from rough terrain and after a long trek to soothe their paws. 
Have any other ideas to add to the dog hiking essentials list? Drop them in the comments and let us know.